Bank of England Governor Mark Carney says that the removal of some of the stimulus may be necessary. So far, Carney was in the dovish camp, battling opposition from within.
Three out of eight members voted for a rate hike in the most recent rate decision. However, Carney remained in the camp that said it is not the time to raise rates.
Today he probably changed his mind, or at a minimum, he is jawboning Sterling higher.
Carney also said that their tolerance for higher inflation is limited and that they will "debate issues around raising rates" in the coming months. Yet not only inflation is a factor: Brexit, wages, and labor costs will also be taken into account.
More: GBP: Here Is Why Further Downside Is Likely Limited From Here – BTMU
GBP/USD jump
GBP/USD is responding quickly with a leap to 1.2914. Basically, cable is back to the pre-election range. The next level of resistance is at 1.2980, just under the round 1.30 level. Further resistance is at 1.3050. Support is at the previous high of 1.2820.
Update: the pair continues higher, reaching a new high of 1.2940.
Another update: Sterling/greenback has already reached 1.2965. The pair is firmly in pre-election territory.
Here is how the move looks on the daily chart. This is the second day of gains for pound/dollar. Yesterday, the pair advanced on the US dollar's weakness, more than anything else. Today the move is more significant and directly related to the UK.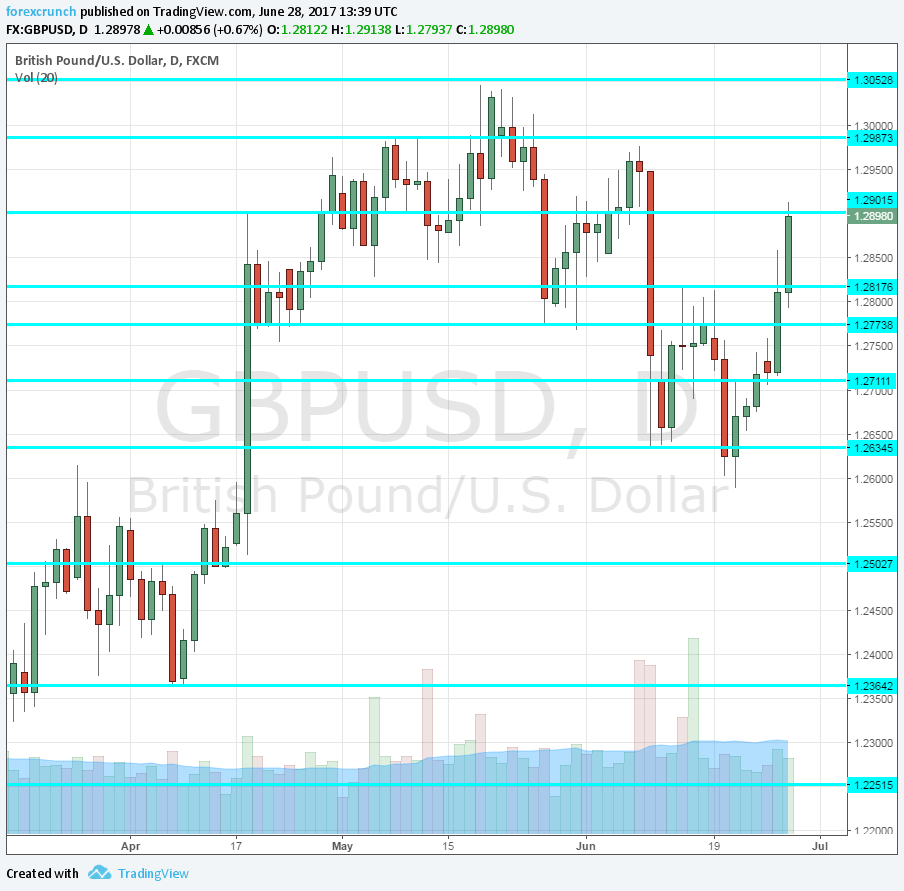 Get the 5 most predictable currency pairs