A relatively light week expects cable traders, yet the GDP release will definitely create waves for quite some time. Here's an outlook for the British events, and an updated technical analysis for GBP/USD.
GBP/USD chart with support and resistance lines marked. Click to enlarge: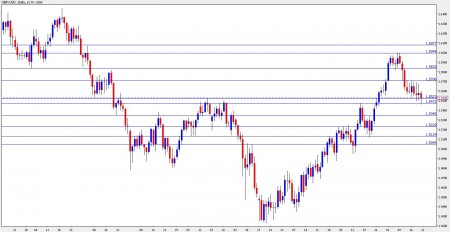 While inflation slides gradually back into target, there's still one member that wants a rate hike. For now, he remains the only member. An upgrade of the GDP could change the minds of others. Let's start:
Nationwide HPI: Publication time unknown at the moment. The Nationwide House Prices are considered to be an accurate measure of house prices, even though they're not the first to publish them. In the past two months, prices disappointed and even unexpectedly fell by 0.5% last month. As other indicators show the same trend, another fall is expected now – by 0.3%.
BBA Mortgage Approvals: Published on Tuesday at 8:30 GMT. The British Bankers' Association publishes this figure for approximately two thirds of British mortgages. The number of approvals has been stable around 35K in recent months, with last month's figure standing at 34.8K. A small rise is expected now.
CBI Realized Sales: Published on Thursday at 10:00 GMT. The Confederation of British Industry shocked the markets last months as the indicator exceeded expectations big time – 33 points instead of 2. This positive number, for the first time in years, means that retailers and wholesalers are expecting a higher sales volume in the upcoming months. This fueled the Pound's gains. A small drop is expected now.
Business Investment: Published on Friday at 8:30 GMT. The first release of Business Investment is expected to show a modest rise in Q2. Q1 was excellent – a 6% rise, but it was only a correction to the 4.3% fall in Q4 of 2009. This release always rocks the Pound.
Revised GDP: Published on Friday at 8:30 GMT. The first release of GDP for the second quarter was very impressing – a growth rate of 1.1%, far better than expected. A repeat of this number in the second release will be positive for the Pound, but a small downwards revision is now predicted. Any result will rock the markets.
GBP/USD Technical Analysis
The British Pound performed impressive range trading during most of the week, trading between the major support line of 1.5520 and the minor resistance line of 1.5720, all mentioned in last week's outlook. By the end of the week, the global weakness took over and GBP/USD dropped to test the 1.5472 line, but managed to escape it and to close just above 1.5520.
The Pound now trades between 1.5520, which served as tough resistance in April and as support line in February, to 1.5720, which supported GBP/USD back in 2009.
Above, 1.5833, which provided support when the year began and later worked as resistance, is the next resistance line. Higher, the round psychological number of 1.60 proved to be a tough barrier not so long ago and is a very strong resistance line.
Higher, 1.6080 is the next minor line of resistance, after serving as support in January. It's followed by 1.6270, but that's quite far at the moment.
Looking down below 1.5520, the next line of support is quite close – 1.5470 – it capped the pair in its recent ascent and supported the pair just this Friday. 1.5350 served as pivotal line in March and April and now provides minor support.
Lower, 1.5230 was a stubborn resistance line in July and is now a major support line. Even lower, 1.5120 will provide further support.
I turn bearish on GBP/USD.
The past week's range trading is over with the Pound being more vulnerable now. A break under 1.5470 will trigger more weakness, especially as inflation softens and the excellent GDP in Q2 could be revised to the downside.
Further reading:
Want to see what other traders are doing in real accounts? Check out Currensee. It's free..