After enjoying upbeat data and climbing higher, the pound faces a tough rate decision among other events. Here' an outlook for this busy British week, and an updated technical analysis for GBP/USD.
Purchasing managers' indices were very helpful for the pound – manufacturing, services and construction all exceeded expectations and gave the impression that snowy December was only a temporary slump. Will it be seen in the rate decision as well?
GBP/USD daily chart with support and resistance lines on it. Click to enlarge: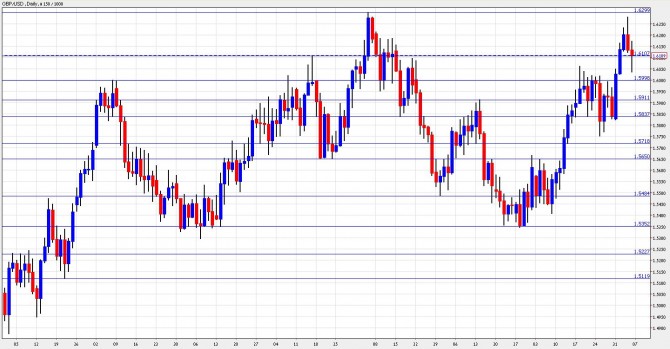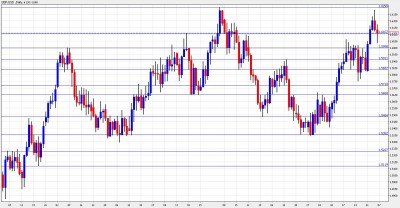 BRC Retail Sales Monitor: Tuesday, 00:00. This figure serves as preliminary indicator for the official retail sales number. After a few months of rises, we've seen a drop of 0.3% last time. A rise will probably be seen now.
RICS House Price Balance: Tuesday, 00:00. Drops in house prices are seen in most regions in the past few months. The indicator bottomed out at -49% three months ago, and reached -39%, still showing a slump. A similar number will probably be seen now – 38%.
BRC Shop Price Index: Wednesday, 00:00. This indicator is usually overshadowed by others. But this time, it has its own space, and is also in the limelight due to inflation. Annual prices in shops stand at 2.1% according to this number. They're expected to edge up.
Trade Balance: Wednesday, 9:30. The British deficit has deepened in recent months, and reached 8.7 billion. This has weighed on the pound. A small squeeze in the deficit is predicted now, but it's likely to top 8 billion. -8.6 billion is predicted.
Manufacturing Production: Thursday, 9:30. Manufacturing has risen at a good pace in the past two months – 0.6%. This gave a boost to the pound. This time, a smaller rise of 0.5% is expected in this important indicator. Industrial production will probably rise at the same scale  – 0.5%.
Rate decision: Thursday, 12:00. This rate decision is on a knife's edge. According to the latest meeting minutes, also Martin Weale joined Andrew Sentance in voting for a rate hike. With the latest strong figures, a rate hike to 0.75% cannot be totally ruled out. There are higher chances for another month of an unchanged rate at 0.50%, as governor King still opposes it. Similar to the recent ECB rate decision, this rate decision will be a big event that will rock the markets, after quite a few "non-events".
NIESR GDP Estimate: Thursday, 15:00. The independent think tank is usually accurate in predicted the official GDP, and releases figures every month. They were wrong, like everybody else, in predicting the terrible GDP in Q4. They also saw growth of 0.5%. They will now give an estimate including January 2011. Will they show an improvement in the situation?
PPI: Friday, 9:30. Producer prices have also been on the rise in Britain. Last month, PPI Input, the main figure, was a shocker – 3.4%. This time, a much more moderate climb is predicted – 1.5%. Another result of over 3% will help the pound. PPI Output is likely to rise by 0.5%, like last month.
* All times are GMT.
GBP/USD Technical Analysis
Sterling began the week with a leap. After securing the 1.60 level (mentioned last week), it continued higher, but failed to cross 1.63. It eventually closed at 1.6109, just at the 1.6110 line.
1.6110 continues to be an important line,  especially  after providing some support for the pound in the past week. Higher, 1.63, the highest level in a year and works as significant resistance after capping the pair just now.
Above, an old peak at 1.6450 is the next line, and it's followed by 1.67 which prevented further moves back in 2009.
Looking down, 1.60 now becomes support. This round line was also a peak in August and was important since then. 1.5910 is minor support on the way down.
Further below, 1.5840 is now only a weak support line, unlikely to hold for a long time.  Below, 1.5720, turns into a stronger line, that worked in the past week and also beforehand.
Diving lower,  significant    support is found at 1.5650, which was the top border of wide range that GBP/USD traded in until the recent breakout.  It's followed by 1.5480, which is a minor line.
Lower, 1.5350, which was the bottom border or the wide range.  It hasn't been broken for a long time.  1.5230 capped the pair in the beginning of the summer, and is now has a different role.  It's followed by 1.5120, which already worked as support, and is a minor line now
I am neutral on GBP/USD.
The upbeat PMIs in all sector of the economy, with the higher inflation, contradict the shocking squeeze of the economy in Q4 and the improving US economy. Trading will be very choppy towards the rate decision.
Further reading: