After suffering losses, the pound faces important employment numbers and two appearances by the King among other events. Here's an outlook for British events and an updated technical analysis for GBP/USD.
The relatively weak producer price number give more time before a rate hike. Is inflation really that a problem in Britain? We'll hear from King now. Let's start:
GBP/USD daily chart with support and resistance lines on it. Click to enlarge: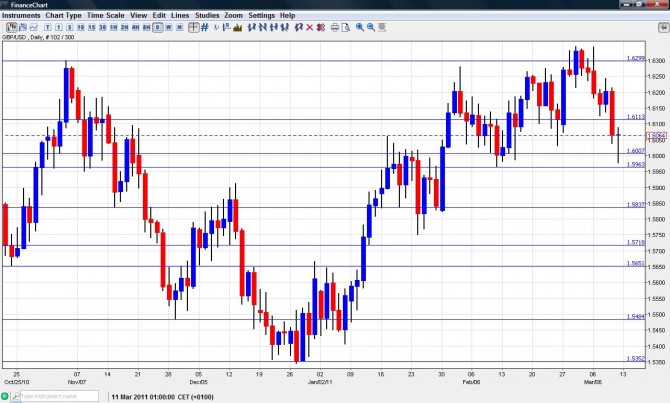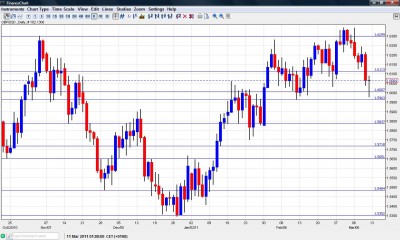 Mervyn King talks: Monday at 2:30 and also on Wednesday at 7:00. The governor of the BOE is embarking on an Asian tour. He'll be speaking first in Tokyo and then in Beijing. King is definitely the king of the pound – his words send cable up and down.
CB Leading Index: Wednesday, 10:00. The conference board uses 7 economic indicators for this composite index. Although most of the data was already released, the publication still moves the pound. After a rise of 0.7% last month, a smaller rise is expected now.
Employment data: Wednesday, 9:30. While inflation is raging in Britain, the employment situation drags the economy and the currency down. Claimant Count Change represents the change in the number of people claiming for unemployment related benefits. Last month saw a disappointing rise in this early and important figure. Another rise of 1200 people is expected – half of last month's number. The unemployment rate for January, a relatively late figure, is expected to remain unchanged at 7.9%. Also note the average earnings index, which is expected to show an accelerated rise of 2.2%.
Consumer Inflation Expectations: Thursday, 9:30. This indicator provides another look at inflation – through consumers' eyes. Also this figure shows an acceleration in inflation – it rose to an annual rate of 3.9% – just under the official CPI number. It's expected to rise a little bit higher this time.
Nationwide Consumer Confidence: Friday, 00:00. Consumers in Britain now have smaller confidence than beforehand – confidence has fallen from 54 to 47 points. This survey of 1000 people is expected to show a very modest improvement in confidence – to 48 points.
Mortgage Approvals: Friday, 9:30. The initial release of mortgage approvals usually disappoints, and is later revised to the upside. Nevertheless, this first publication rocks the pound. The number of approvals is predicted to rise from 46K to 47K.
* All times are GMT.
GBP/USD Technical Analysis
After another failed attempt to break higher, cable fell and found support around the 1.60 line (mentioned last week). It eventually closed at 1.6064.
Looking down, the round number of 1.60 provides immediate support. This was a peak back in August, and since then worked in both directions.  Ir's followed closely by 1.5960, which was a bottom back in February and now provides minor support.
Lower, we find 1.5820, which worked in both directions before the pair moved higher.  Next down the road, 1.5720 which is already a stronger line, that worked in recent months.
Further below we have an important cushion – 1.5650. This was the top border of wide range that GBP/USD traded in the past few months. Below, 1.5480 is a minor support line after being a swing low back in November. The last and strong line for now is 1.5350 – which was a strong floor for the pair.
Looking up, 1.6110 is the initial line of resistance. It worked as support just now, and was a peak in the past as well. The 1.6280 – 1.63 region was breached several times, but these breaks were false.
Further above, an old peak at 1.6450 is the next line, after being a swing high back at the beginning of 2010.  Higher, important resistance is found at 1.67 which prevented further moves back in 2009. In the distance, 1.7040, the peak of 2009 is the last stronghold.
I am bearish on GBP/USD.
The weakness of the British economy, as seen in the services sector and in a problematic job market continues to weigh on the pound. The rate hike will only further hurt the economy.
Further reading: