A very busy week expects pound traders, with inflation and employment figures in the limelight. Here's an outlook for the British events, and an updated technical analysis for GBP/USD.
GBP/USD graph with support and resistance lines on it. Click to enlarge: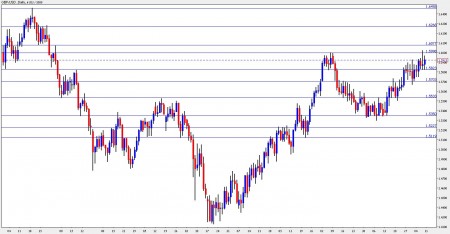 The rate decision didn't make any changes, but apparently the members could not agree on a statement. The debate about QE or a rate hike heats up within the central bank, and rocks the currency. How will it move this week? Let's start:
Mervyn King talks: Sunday, 23:00. Just as the markets open, the governor of the BoE will speak in a panel at a conference in Washington. Any comment about the heated debate about currencies will provide an early and exciting start for the Pound. Note that King will have more opportunities to move the markets later in the week.
RICS House Price Balance: Monday, 23:00. This special indicator shows the balance between regions reporting a rise in house prices and regions that show a drop. After many positive months, this index dropped to -9% two months ago, and plunged to 32% last month. Given the recent report by Halifax, that showed a 3.6% drop in prices, this figure is expected to be negative for another month, even dropping to -34%.
BRC Retail Sales Monitor: Monday, 23:00.  This "mini retail sales" release is a good indicator for consumers' moods. The British Retail  Consortium, that represents a significant part of British retailer, has shown a year-over-year growth rate of 1% in sales, better than the previous month. This time, the rise is expected to be smaller. The release is slightly overshadowed by the previous figure.
CPI: Tuesday, 8:30. British inflation refused to slip back into the 1-3% target last month, and remained at 3.1% (annualized), fueling the pledge for a rate hike by Andrew Sentance. It's expected to remain at 3.1% this time. Also note Core CPI, that is expected to drop from 2.8% to 2.6%, and might ease the impact of the headline number. Retail Price Index (RPI) is likely to drop as well – from 4.7% to 4.4%.
Trade Balance: Tuesday, 8:30. Britain's deficit widened to 8.7 billion pounds, the highest in many years. This hurt the pound. A smaller deficit is expected this time – 8 billion. Note that extraordinary inflation figures will overshadow the trade balance release.
Inflation Report Hearings: Tuesday, 9:30. Time may change. About one hour after the release of fresh inflation figures, Mervyn King and some of his colleagues will appear in parliament. Inflation is only one of the topics on the agenda. The Treasury Committee will hear an overview of the economy, and possibly hints about future monetary policy.
Nationwide Consumer Confidence: Tuesday, 23:00. This survey of 1000 consumers is an important indicator for the pound, despite the late hour. After reaching a peak of 81 points, confidence fell to 56 points before correcting to 61 last month. It's expected to tick up again to 64 points.
Employment data: Wednesday, 8:30. The improvement in the British job market stalled in the past two months. Last month even saw a rise in the number of people claiming unemployment benefits – Claimant Count Charge. Another small rise is expected in the month of September. The second figure, unemployment rate, is for the month of August. It's expected to remain unchanged at 7.8% for a fourth month in a row. Also note the related Average Earnings Index which rose by 1.5% last month an is now expected to stand at 1.6%.
CB Leading Index: Wednesday, 9:00. Most of the seven economic indicators that build up this figure have already been released. Nevertheless, it tends to move the pound. The index rose by only 0.2% last month, slower than previous months. A similar rise is expected now.
Paul Fisher talks: Friday.  This MPC member is in the middle, like the majority of members – he doesn't support a rate hike nor more QE. Any change in his opinion will rock the pound, as the MPC is now split.
* All times are GMT.
GBP/USD Technical Analysis
After settling over the 1.5820 line, GBP/USD made a false break above the 1.60 line (mentioned in last week's outlook) before falling back and finally closing at 1.5923.
The 1.60 line remains a major and important resistance line – the rise above this line was very brief.  Above, a convincing break above 1.60 will find resistance at 1.6080 a line that provided support back in January.
Higher, 1.6270 served as support in November and also had a role in the opposite direction later on. The last point for now on the upside is 1.6450 – a swing high in January.
Looking down, the role of 1.5820 became stronger after this week's performance. It had the same role at the beginning of August.
Lower, 1.57 is the next line of support. It was a tough resistance line in August. Below, 1.5530 capped the pair in April and worked as resistance not so long ago.
Below, 1.5230 was a stubborn line of resistance back in July. It's followed by 1.5120, that first served as resistance in June and then worked as support in July.
I am bearish on GBP/USD.
Only a significant improvement in employment will help the pound to outperform other currencies. At the moment, it's heavily supported by the greenback's weakness. As Mervyn King makes public appearances this week, there's a better chance of seeing the Pound drop.
Further reading:
Want to see what other traders are doing in real accounts? Check out Currensee. It's free..