The  British pound  had an exciting week, with a final break higher. Many speeches and a few indicators are awaiting us in another busy week. Here is an outlook for the British events, and an updated technical analysis for GBP/USD.
Headline inflation pierced the 5% mark. In the current environment, this only means more trouble for Britain, as tightening monetary policy is off the cards, especially after the QE2 decision.
GBP/USD daily graph with support and resistance lines on it. Click to enlarge: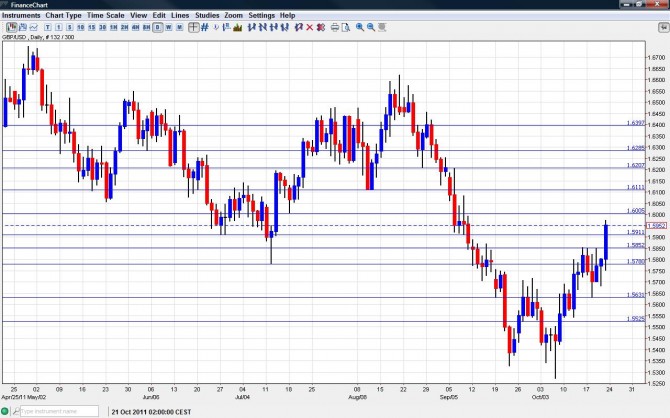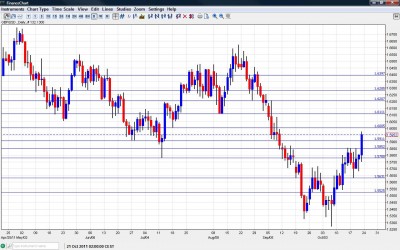 Paul Tucker talks: Monday, 8:05. The deputy governor of the BOE will speak in Brussels and may shed some light on the current policy of the central banks, especially regarding the expansion of QE.
Current Account: Tuesday, 8:30. This quarterly figure is of high importance. he total deficit of Britain is expected to widen towards the 10 billion mark now. Note that this indicator's release has been delayed. A rise above 10 billion will weigh on the pound.
BBA Mortgage Approvals: Tuesday, 8:30. According to the British Bankers' Association, the housing sector is improving, with more mortgages approved in recent months. After reaching 35.2K last month, another small rise is likely now. BBA represents around two thirds of British mortgages.
Mervyn King testifies: Tuesday, 8:45. The head of Britain's central bank will appear before the Treasury Committee and will discuss the economy, inflation, QE and more. Questions by the MPs might trigger interesting answers. This event usually last for quite some time and usually has a lot of impact on the pound.
Charles Bean talks: Tuesday, 16:30. Another central banker will speak, this time in Geneva. Bean has been in line with King and the majority of the MPC in his votes up to now.
CBI Industrial Order Expectations: Wednesday, 10:00. The second figure by CBI this week relates to manufacturers. The picture here is more complicated, but the figure is at negative territory as well: -9. A small improvement to -7 points is predicted now.
Adam Posen talks: Wednesday, 18:00. The last central banker to speak is known for being a dove. Posen voted for QE while the rest rejected and when some even wanted a rate hike. We might get to hear his thoughts about rising inflation and if even more QE is needed.
CBI Realized Sales: Thursday, 10:00. The  Confederation of British Industry has shown a drop in the volume of sales. The score has been negative in the past 4 months and has reached -15 after many positive months. The same score  is likely now among wholesalers and retailers.
GfK Consumer Confidence: Thursday, 23:00. This  survey of around 2000 consumers has already deteriorated to a lower score than the current -30 points and will likely remain unchanged. Note that the negative number means pessimism.  

* All times are GMT.
GBP/USD Technical Analysis
Pound/dollar kicked off the week with a rise and marked the borders of the range: 1.5633 (mentioned last week) and 1.5850. Towards the end of the week it made and closed at 1.5952, after getting closer to 1.60.
Technical levels from top to bottom
We begin from a higher level this time. 1.64 was a pivotal line recently and resistance at the beginning of the year. 1.6285 follows with a similar role. It was also support at one point.
The round number of 1.62 worked in both directions during many months of range trading. 1.6110 is another significant line that served better as support.
The round number of 1.60 is getting closer. Also this line worked well in both directions during 2011. 1.5910, was eventually broken and now switches to support, the same role it had in June.
1.5850 proved to be a tough line of resistance before the recent break higher and now works as support. It is followed by the swing low of 1.5780, a  minor resistance in 2010, which is minor support now.
1.5633 worked as support during September was only very temporarily breached in October.  It is followed by 1.5530 which was the bottom line of the recent range, and had a similar role back in 2010. It now turns into support.
I am bearish on GBP/USD.
The crisis in Europe and the British stagflation are yet to be expressed, after the recent recovery rally. The words of various speakers will also play a role this week.
Further reading: