EUR/USD continues falling steadily yet persistently and is digging deeper in two-month lows. The loss of the uptrend support line (within the narrowing channel) proved decisive.A combination of Obama's re-election and Greece's issues continues weighing on the pair. Where will it end?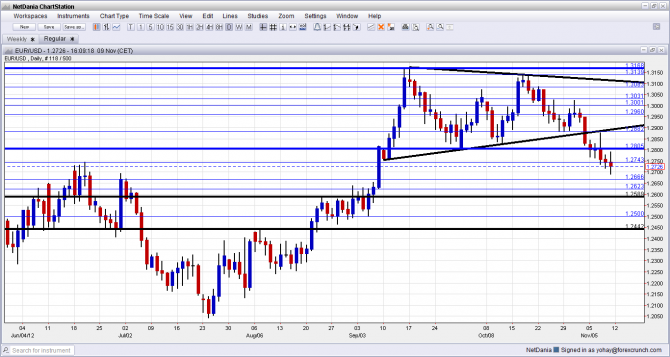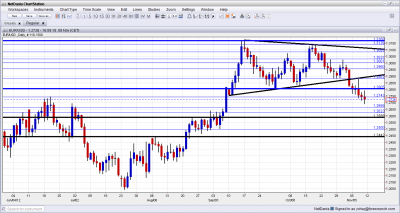 Where Next?
From here, there are two big lines to watch: 1.26 is a round number and also a cap of the previous range at the end of August. More important, 1.2440 was the bottom of this support area.
More lines are in the EURUSD forecast.
It will take some time until we get serious news about the fiscal cliff. In the meantime, here is all you need to know about The Cliff.
In the nearer term, Greece is in the limelight:
Greece can be either saved for now with some ECB trickery – the revolving doors act that saved the country from defaulting in August. Basically, the ECB lends money to Greek banks, that buy Greek government bonds. The banks then pledge the bonds as collateral with the ECB. Is this monetary financing? Does it matter?
Or, the country could leave the euro-zone now that the US elections are over. Why? First and foremost, now that Europe knows who's in control in Washington, it knows who to potentially coordinate the Grexit with.
But, there are more reasons to consider this scenario: here are  5 Reasons Why Greece Could Leave the Euro-Zone After the US Elections