All the positive gains made by the EUR during the earlier trading sessions, based on the re-election of President Obama has been given up as the EUR has plunged lower on disappointing EU recession news.   The comment made by ECB President Draghi that the European recession has reached Germany was met by mass selling of the EUR, as well as a strong selloff in the European stock markets.   While growth in the EU (0.4%) and the Eurozone (0.1%) is still expected in 2013, the latest European Union report states that there will be recession in both areas, 0.3% in the EU and 0.4% in the Eurozone.   The statement went on to say that unemployment in the area will remain high.
Given these comments, risk aversion has taken over and that has seen the EUR drop below 1.2750, the USD/CAD regain the .9940 area and the AUD threaten the 1.0400 area.
And lets not forget the Greek Parliament vote on austerity today.   There are already riots in the streets as Greece is in the midst of a 48 hour general strike called by unions to protest the vote on the 2013 budget. Addition: 5  reasons  that Greece could exit the euro zone after the US elections.
So the EUR pressure continues.   Adding to the risk off mentality that has gripped the market over the last hour, the DOW Futures are now much lower.   At 8:20 they are showing down 117 points, indicating a major selloff in the US equity markets at their opening.
Look for this pressure to remain for today.   Support is at 1.2735, 1.2715 and 1.2690.   A close above the 1.2870 level would be needed to eliminate this downward pressure.
The 5 day and 6 month charts are below.
Matt
EUR/USD hourly 5 day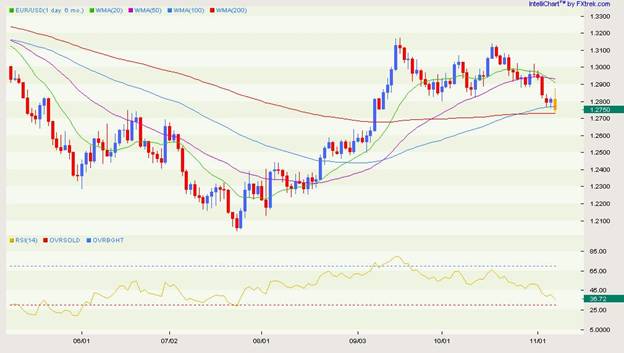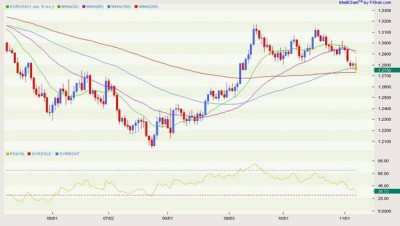 EUR/USD daily 6 month