At this time three years ago, Trichet raised the rates just before the global financial system collapsed. He found himself slashing the rates quickly afterwards. It's not only a fresh round of the debt crisis that poses a risk. There are many signs of a slowdown at the euro-zone's strongest countries and all over the world.
Will Trichet keep remain credible at a very high cost? Or will he bold enough to change his mind? If so, it will be a blow to the euro, as this isn't priced in the markets.
Signs of Weakness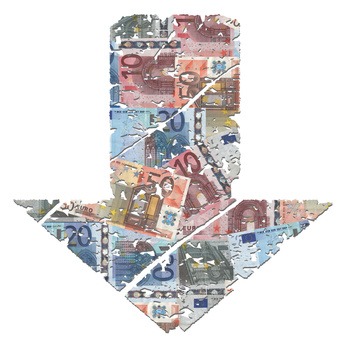 The peripheral countries are struggling. Economic growth belongs to the past, and times of austerity seem to remain with us for a very long time. The relief that was felt in the markets after the Greek vote quickly made way for troubles on the other side of the continent.
Portugal received a four-notch downgrade from Moody's only two months after it received a bailout program. The main reasons for the move were the fear that contagion from the Greek crisis won't allow Portugal to raise money, and slow growth.
But it isn't only the peripheral countries. Germany is slowing down. Many figures released during Q2 have shown that Europe's powerhouse is slowing down. Also the continent's second largest country is seeing a decline in many parameters.
A fresh research on the whole continent sums it up:
Eurozone economic activity should decelerate markedly to 0.3% q/q in the second quarter and then grow 0.4% in each of the final two quarters of the year
It is not only Europe: The US is hardly growing, as seen in fresh data from the services sector. China is also beginning to experience its debt crisis with a huge pile of municipal debt.
Also inflation, mostly driven by oil prices, is easing. The method of battling external high oil prices with depressing internal demand is also heavily doubted.
In the ECB preview, I have focused on the words that Trichet will say at the press conference, and said that there's a very low chance that he will back down from the clear intention to raise the rates. "Strong vigilance", heard repeatedly by ECB officials, is a very known sign of a rate hike.
Jean-Claude Trichet will be stepping down soon. In addition, he also said that the ECB "never pre-commits" to hikes. With lower inflation, he does have a narrow opening to walk through and make a bold move by not lifting the rates above the current 1.25%.
Will he be bold enough to change his mind?
If so, EUR/USD is likely to fall below 1.40, as such a move isn't expected.
He'll most likely stick to his stubborn attitude. In such a case, the code words "monitor closely" or "monitor very closely" will make the difference. The ECB preview has all the explanations and scenarios.