The  New Zealand dollar  had a mixed week as the first quarter came to an end. It eventually managed to end the week higher against the USD and is nearing parity against the Aussie.  Here is an analysis of fundamentals and an updated technical analysis for NZD/USD.
The price of milk fell for a second  consecutive auction, but that was not a big issue after a sequence of gains. ANZ business confidence was on the rise. In the US, a week that began with some small beats ended with a big disappointment in the NFP, and to eventual losses for the greenback.
[do action="autoupdate" tag="NZDUSDUpdate"/]
NZD/USD  daily chart    with support and resistance lines on it. Click to enlarge: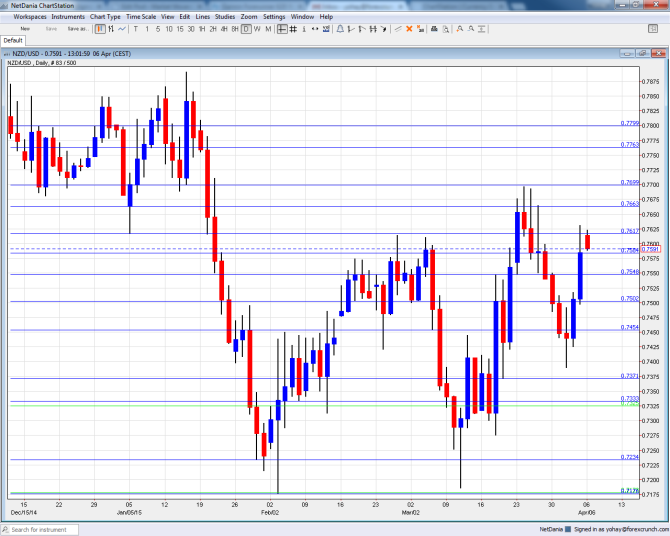 No fundamental releases this week .
NZD/USD  Technical  Analysis
Kiwi/dollar started off the week  with a slide and  found support above the 0.7370 line (mentioned last week). It's fate turned quickly and it managed to  challenge the 0.7615 line before closing a bit lower
Live chart of NZD/USD:
[do action="tradingviews" pair="NZDUSD" interval="60″/]
Technical lines, from top to bottom:
The round level of 0.78 played a role in the past and is high resistance. IT is followed closely by 0.7765 which capped the pair late in 2014.
The round level of 0.77 proved its strength in March 2015 and capped the kiwi's ascent. Below, 0.7665 is lower resistance, after having this role in December.
0.7615 now works as resistance after providing support during January 2015. It is followed closely by 0.7585 which capped the pair on an initial recovery attempt. Another line to watch out for is 0.7550, which separated ranges in March 2015.
The very round  number of 0.75 capped the pair just before the big fall and serves as strong resistance. It is followed by 0.7450 that had a role in the past.
The next line is 0.7370, which was a low point in 2011. It is followed by 0.7325, which capped the pair in the middle of 2010.
The recent 2015 low of 0.7235 is  now the next  support line. It is followed by 0.7180 that served as resistance back in 2010.
The swing low of 0.71 in 2011 provides further support before the very round number of 0.70.
I am bullish  on  NZD/USD
The fundamentals  in the New Zealand economy support further gains, and with weakness in the U dollar, it can more easily achieved.
In our latest podcast we interview  David Stein on investment, QE and lots more
In this  week's podcast, we feature an  Interview with FXStreet President Francesc Riverola on the industry, volatility and more
Subscribe to Market Movers on iTunes
Further reading: