The  New Zealand dollar  made its way higher in the holiday week. Can it continue rising?  The milk auction is the only event on the kiwi calendar, but it's certainly an important one.  Here is an analysis of fundamentals and an updated technical analysis for NZD/USD.
With no releases in New Zealand, the kiwi extended the trend, with a rise to levels seen in October. Data in the US was rather mediocre, but was mostly second tier. Now we're back to business.
[do action="autoupdate" tag="NZDUSDUpdate"/]
NZD/USD  daily graph  with support and resistance lines on it. Click to enlarge: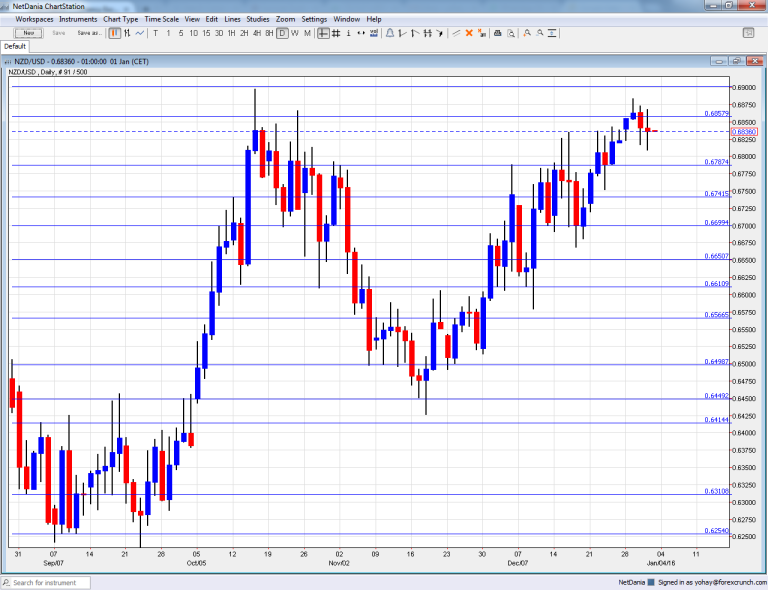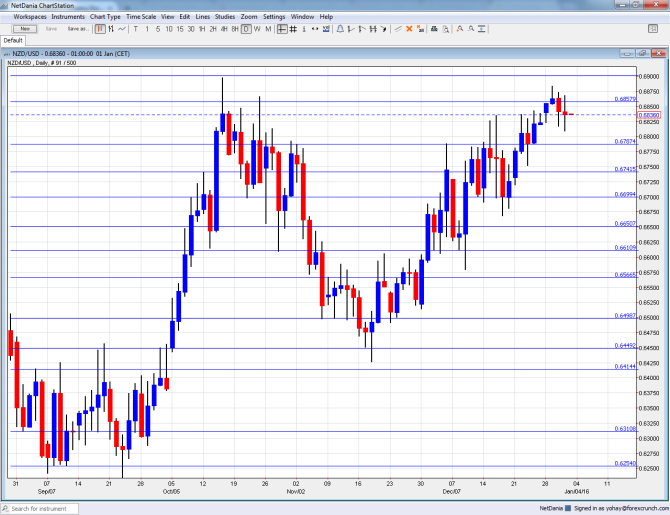 GDT Price Index:  Tuesday, during the European afternoon. The Global Dairy Trade, or the price of milk, always has a strong influence on the kiwi, as it is the country's main export. After 3 consecutive falls, prices edged up in the past two auctions, sending NZD higher. Will we see a third advance? This is the key event and it stands out.
NZD/USD  Technical  Analysis
Kiwi/dollar continued moving higher but remained shy of the 0.69 level (mentioned last week).
Technical lines, from top to bottom:
0.7075 is where the pair found support back May. It is naturally followed by the very round level of 0.70.
The low of 0.6940 allowed for a temporary bounce.  The round 0.69 level has  switched positions to resistance.
0.6860 was a low point as the pair dropped in June 2015. It is followed by  0.6790 that capped the pair in recent months.
It is followed by the round level of 0.67 that works nicely as support.  Another line worth noting is 0.6640, which capped the pair in November.
The post crisis low of 0.6560 is still of importance.  Below, the round 0.65 level is of high importance now, serving as support.
I am bullish  on  NZD/USD
Things look good in New Zealand: the economic situation is positive and the RBNZ doesn't seem keen to act. Assuming a non-disaster in milk prices, we could see the pair advance a bit more, until it worries  Wheeler and his colleagues.
Here is our  2016 Financial Markets Guide:
Follow us on Sticher or on iTunes
Further reading: