The  New Zealand dollar  continued its downfall to lows last seen 5 years ago as the US dollar surged. The bi-weekly milk auction is the key event  . Here is an analysis of fundamentals and an updated technical analysis for NZD/USD.
New Zealand's trade balance remained positive for another month, with a surplus of 123 million. Nevertheless, the kiwi surrendered to the US dollar, that took advantage of each  bit of positive data. There is a growing consensus that rates will be cut sooner rather than later.  Will the downfall continue?
[do action="autoupdate" tag="NZDUSDUpdate"/]
NZD/USD  daily chart    with support and resistance lines on it. Click to enlarge: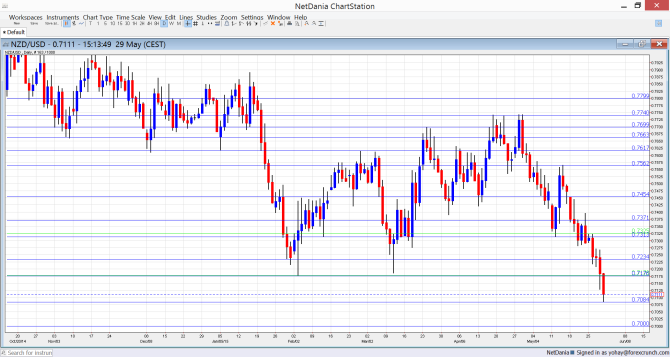 Overseas Trade Index:  Monday, 22:45. This index, also known as "terms of trade" fell by 1.9% in Q4 2014, suffering the second fall in a row. The number in Q1 2015 could be somewhat better:  a rise of 1.8% is on the cards.
GDT Price Index: Tuesday. The Global Dairy Trade Price Index, or basically the price of New Zealand's critical milk exports, dropped in 5  consecutive auctions. While such streaks are not uncommon for this bi-weekly announcement, it took a toll on the kiwi. A small bounce could be seen now.
ANZ Commodity Prices: Wednesday, 1:00. As an exporter of commodities, this indicator plays an important role. After a big drop of 7.4% in  April, a bounce is on the cards for May.
NZD/USD  Technical  Analysis
Kiwi/dollar  continued sliding.
Live chart of NZD/USD:
[do action="tradingviews" pair="NZDUSD" interval="60″/]
Technical lines, from top to bottom:
We begin from lower ground this time.
0.7615 now works as resistance after providing support during January 2015. 0.7560 capped the pair in May and serves as important resistance.
The very round  number of 0.75 capped the pair just before the big fall and serves as strong resistance. It is followed by 0.7450 that had a role in the past.
The next line is 0.7370, which was a low point in 2011. It is followed by 0.7315, which supported the pair in May.
The recent 2015 low of 0.7235 is  now the next  support line. It is followed by 0.7180 that served as resistance back in 2010.
Lower, the round level of 0.71 used to provide support in the past but was breached now. The new low of 0.7064 is a fresh line of support.
And of course, the very round level of 0.70 looms large. It also worked as support.  roles as support. If we dig deeper, 0.6850 is the final line.
I remain  bearish on  NZD/USD
The pair is pressed by both sides: expectations for a rate cut in New Zealand either in June or July, and rising chances of an earlier than predicted rate hike in the US.
In our latest podcast, we explain the recent USD  rally, what's ahead and lots more
Subscribe to Market Movers on iTunes
Further reading: