NZD/USD  slid lower in an active week, and managed to pare some losses thanks to renewed QE3 hopes from the US. There are two minor events in New Zealand in the upcoming week, so the outlook leans to the technicals.  Here's an  outlook  for the events in New  Zealand, and an updated technical analysis for NZD/USD.
The official Business  Confidence  figure from the NBNZ recovered and rose to 19.5 points, but this was enough to counter the small rise in building consents and the worries about China. Ben Bernanke partially boosted the pair with his speech at Jackson Hole, even though the Fed could settle for extending the guidance rather than QE3.
Updates:ANZ Commodity Prices  rose 0.5%, its first  gain since  February. The kiwi is dropping, as NZD/USD was trading at 0.7944. The kiwi is steady, as NZD/USD was trading at 0.7929. The New Zealand dollar continues to edge upwards against the greenback. NZD/USD was trading at 0.7968.
NZD/USD  daily chart with support and resistance lines on it. Click to enlarge: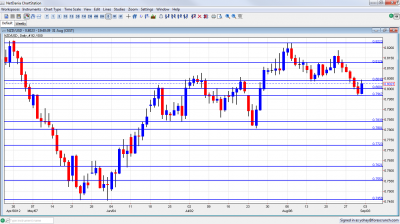 Overseas Trade Index:  Sunday, 22:45.  This quarterly report is important due to its quarterly scope and as a measure of wealth. After a drop of 2.3% last quarter, a drop of 2% is predicted this time.
ANZ Commodity Prices:  Tuesday, 1:00. As an exporter of commodities, New Zealand depends on international prices. The past 5 months saw drops in prices, and also the upcoming month will likely be similar.
* All times are GMT.
NZD/USD  Technical  Analysis
NZD/$ kicked off the week with a downfall, but stopped to pause above the round 0.80 line (mentioned last week). It then continued even lower before recovering and closing at 0.8023.
Technical lines, from top to bottom:
0.8573 capped the pair in September 2011 and is distant resistance. 0.8505 served as support at the same time.
0.8470 was the swing high seen in February. 0.84 was resistance back in February 2012. 0.8320 was a wing high in April, just before the big dive.
0.8260 capped the pair during March, and is stubborn resistance. 0.8220 worked as stubborn resistance in August 2012 and joins the chart.
0.8125 separated ranges in August 2012 and is a minor line now. 0.8040 capped the pair in August 2012 and also served as support during the same month.
The round number of 0.80 managed to cap the pair in November and remains of high importance, especially due to its psychological importance. It was hit by the recent moves and somewhat weaker now. The next line is quite close: 0.7967 provided support for the pair during August and is a significant cushion.
0.7840 provided support for the pair several times during June 2012 and also worked as resistance back at the end of 2011. The round number of 0.78 is significant support after working as such in July 2012.
0.7723 supported the pair back at the beginning of 2012 and also worked in the other direction in June 2012. 0.7620 provided support in May 2012 and is resistance once again, although weaker than in previous weeks.
0.7550 is resistance once again, even after the breakdown. It was a very distinct line separating ranges and had a similar role back in January.
Lower, 0.7450 serves as strong support line after working as such in May.
I remain bearish on NZD/USD
Bernanke's speech was eventually analyzed as dovish (even though he could settle for less than QE3), but even that didn't help the kiwi recover its losses. With Chinese Manufacturing PMI falling again,  and a potential disappointment in Europe, there's more room for falls.
Further reading: