The  New Zealand dollar  continued lower for another week. Where will it stop?  NZIER Business Confidence is the major event this week. Here's an  outlook  for the events in New  Zealand, and an updated technical analysis for NZD/USD
The kiwi got a double blow from rating agencies, which downgraded the credit rating of the country. This wasn't fully anticipated and sent the kiwi to a 6 month low.  Last week building consents continued to surprise with 12.5% increase and 30.3% of businesses participating in a survey believed economic conditions will improve in the next few months compared to 34.4 in the previous month indicating an overall optimistic view of NZ economy. Will things continue to improve?
NZD/USD  daily chart with support and resistance lines on it. Click to enlarge: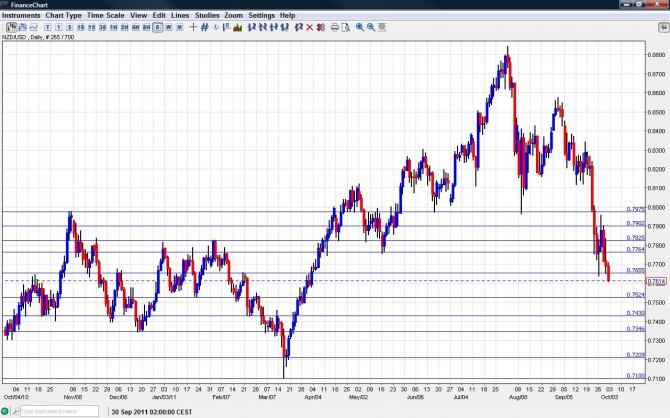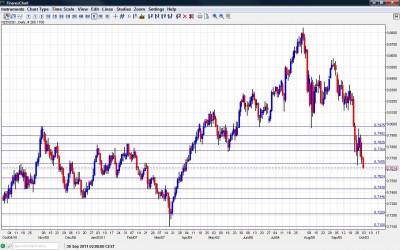 ANZ Commodity Prices: Monday, 0:00.New Zealand commodity prices dropped in August by 1.2% after slipping 0.2% in the previous month. This is the third consecutive decrease. However global drop in prices helped the NZ recovery.
NZIER Business Confidence: Monday.New Zealand business confidence rebounded in the second quarter after the previous reading of -27 after theChristchurch earthquake. NZIER quarterly survey of business opinion revealed that 27% of companies predict an improvement in the next 6 months.
* All times are GMT.
NZD/USD  Technical  Analysis
We start lower, but still above the round number of 0.80: 0.8080 was support back in June and is a minor line at the moment.  Below, 0.7975 was a long running peak and provided support back in May and in July. It was run through during the downfall. 0.7895 was minor support in May and is minor resistance now.
A more important line is 0.7820. It capped the pair three times, the lat being in January, and provided support in April. This is an area of struggle. 0.7764 was important support in May and managed to slow down the fall.
0.7655 was significant resistance back in February and also in 2010 and now switches positions to resistance after it was eventually pierced through. 0.7524 was an important line of support at the beginning of the year, and later switched to resistance. It is the next line awaiting the pair.
0.7430 was support back at the end of 2010 and served as resistance in May.  0.7350, which was significant support at the end of 2010 and also in February is relevant once again.
Further below, 0.720 is another veteran line of support, followed by 0.7100.
I am bearish on NZD/USD.
Apart from the double downgrade, the kiwi is also still feeling Bernanke's twist, as well as the Chinese slowdown, which may hurt exports from New Zealand.
Further reading: