Employment figures dominate the upcoming week's kiwi trading. Here's an outlook for the events in New Zealand and an updated technical analysis for NZD/USD.
NZD/USD daily chart with support and resistance lines on it. Click to enlarge: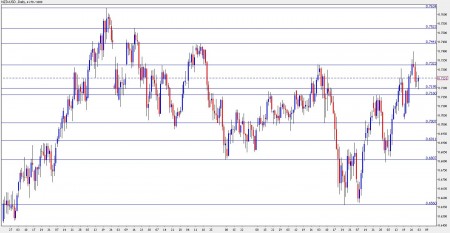 The kiwi reached new highs in the past week, on top of the expected rate hike, but it didn't hold on to these gains. It now depends on the employment figures, which will have a long-term effect on the pair. Let's start:
ANZ Commodity Prices: Published on Monday at 3:00 GMT. This time, the release of commodity prices is released just before the similar Australian release, making it more significant. Last month saw the first drop in prices in 16 months, and this hurt the kiwi. But after a drop of 1.2% last month, prices are expected to rise this time.
Labor Cost Index: Published on Monday at 22:45 GMT. This major quarterly index is an interesting combination of inflation and employment, being a great warm up for the employment figures. After two consecutive quarters of rises in a scale of 0.3% – the cost of labor will probably rise by 0.4% this time.
Employment data: Published on Wednesday at 22:45 GMT. Employment figures always shake  the  markets. In New Zealand,  the effect is more significant, as these figures are published only once per quarter. The last release was superb – unemployment change jumped by 1%, and the unemployment rate made a steep drop from 7.1% to 6%, boosting both the kiwi and the Aussie. But this quarter won't be that good – employment is expected to rise by only 0.5% and the unemployment rate is predicted to rise from 6% to 6.2% – still OK.
NZD/USD Technical Analysis
The kiwi rose gradually and then made a sharp move above the 0.7325 resistance line. This was short lived – after peaking just under 0.74, NZD/USD dropped back down and found support at 0.72, before closing at 07250.
Most of the lines haven't changed since last week's outlook. NZD/USD is bound once again between 0.72, a round number that worked in both directions and 0.7325 which capped the pair in May.
Above, 0.7440 was a stubborn peak at the beginning of the year, and also the place where the pair fell from in October 2009. Higher, 0.7523 was a peak in November and now works as resistance. This is followed by 0.7634, the highest level since the outbreak of the financial crisis.
Below, 0.72, the next line of support is very close, at 0.7160 – which worked as resistance in June. The round number of 0.70 provides the next support line.
Lower, 0.6910 capped the pair in May and now works as a line of resistance. It's followed by 0.68. There are many lines below, with the most notable one being 0.6560, the 2010 low.
I remain bullish on NZD/USD.
With a higher interest rate, and with an expected rise in employment, the kiwi has more room to rise.
Further reading:
Want to see what other traders are doing in real accounts? Check out Currensee. It's free..