Retail sales and other figures will shape the direction of the kiwi in the upcoming week. Here's an outlook for the events that will move the New Zealand dollar, and an updated technical analysis for NZD/USD.
NZD/USD chart with support and resistance lines marked. Click to enlarge: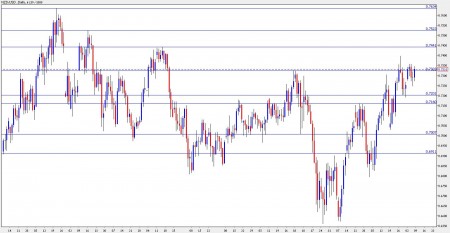 The kiwi was hurt by the disappointing employment figures, that showed a worrying leap of the unemployment rate to 6.8%. This erased some of the kiwi's gains. Will we see positive numbers this time? Let's start:
Business NZ Manufacturing Index: Published on Wednesday at 22:30 GMT. This survey of manufacturers is very similar to purchasing managers' indices in other countries. Since last September, this figure was positive – above 50 points. From 56.2 points last month, the index is expected to edge up to new highs.
FPI: Published on Wednesday at 22:45 GMT. New Zealand is a huge exported of food, making it dependent on prices. The Food Price Index rose by 1.3% last month, after two months of drops. It's expected to continue rising now.
Retail Sales: Published on Thursday at 22:45 GMT. This important consumer figure always shakes the kiwi. Retail sales rose by 0.4% and are expected to rise by the same scale now. Core retail sales caused worries last month when the drop by 0.2%, and are now expected to rise by 0.6% each.
NZD/USD Technical Analysis
The kiwi managed to rise above 0.7325 which it flirted with in the previous week but struggled to hold on to it. Employment data in New Zealand sent it down in the middle of the week, before American employment data on Friday helped it close at 0.7330, just above this resistance line.
Note that some lines were modified since last week's outlook. If 0.7325 holds this time, the road is open towards the next line of resistance – 0.7440 – the stubborn top at the beginning of the week.
Higher, November's peak of 0.7523 provides the next resistance line, and it's followed by 0.7634, a peak in October.
The next line of resistance comes from the era before the global crisis – July 2008. 0.7760 was a resistance line back then, and was a support line beforehand.
Looking down below 0.7325, the round number of 0.72 provides strong support for the kiwi. The next support line is quite close – 0.7160 which capped the pair in June.
The next round number of 0.70 serves as further support. It's followed by 0.6910 which capped the pair at the beginning of the year.
I turn neutral on NZD/USD.
The employment figures were very disappointing and will probably cause pauses in raising the rates. On the other hand, US weakness can support the kiwi.
Further reading:
Want to see what other traders are doing in real accounts? Check out Currensee. It's free..