New Zealand reported an excellent job report for Q4 2013: employment grew by 1.1%, beating expectations of a rise of 0.6%. The unemployment rate fell from 6.2% to 6%. This was expected, but it came on top of a rise in the participation rate, this is very different than in the US.
NZD/USD reacted with a move all the way to 0.8250. While the peak was not sustained against the US dollar, the kiwi dollar shows strength against its other peers.
The level of participation in the labor market rose from 68.6% to 68.9%. This is more than 7% above the rate in the US. Year over year, employment in New Zealand grew by 3%.
Rises were also recorded in wages, with the Labor Cost Index rising by 06%, stronger than 0.4% in Q3 and 0.5% expected. Average hourly earning rose by 0.3%. This pushes inflation and core inflation higher, and seems to cement a rate hike by the RBNZ in its March meeting.
NZD/USD was already on the rise towards the publication, escaping from the lows around 0.8050 and positioning itself closer at around 0.8180. The release eventually sent the pair to 0.8250, but fresh USD strength across the board sent it back down to around 0.82. However, AUD/NZD saw a big fall and so did other NZD crosses.
The taper train is on the track in the US, and so are worries about emerging markets. This may limit gains of NZD/USD, but the NZ$ will likely stand out, especially after the unjustified fall seen in the previous week.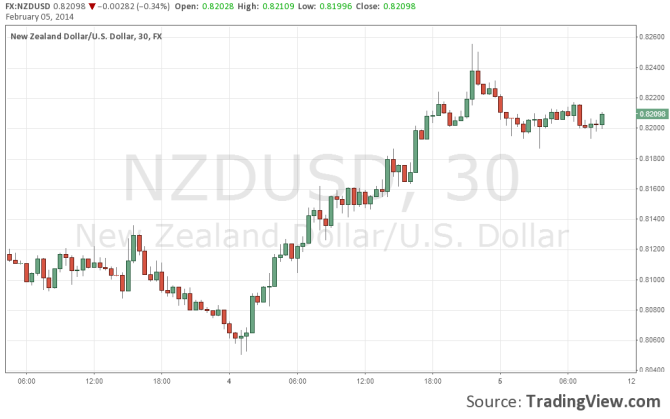 For more, see the NZDUSD forecast.