Following the article about investing in forex as one would invest in mutual funds, I hereby present the forex investment portfolio I've chosen. It consists of 4 selected trade leaders, each one having a different approach.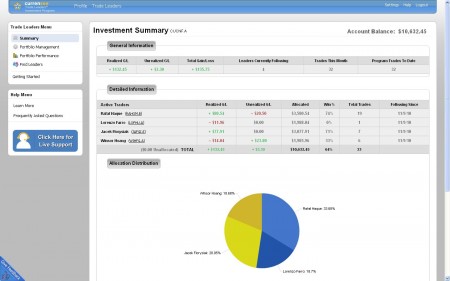 Forex investment portfolio – click to enlarge.
The trades of these traders are automatically followed and executed. I can stop and start following trade leaders any time I want. Here are the reasons for picking these traders and a brief snapshot of the performance so far. The portfolio is with Currensee
You can see all the trade leaders here.
Here are my selections for my portfolio:
Rafat Haque (account B): Has a breakout / trend strategy, enjoys a high Trade Authority Index of 97.3, a  cumulative return of 102.3% but a safe approach –    the risk index is only at 12.3 points. He is the technical yet solid investment – comparable with blue chip stocks. Initial investment – $3500.
Lorenzo Farro: Similar to the previous trade leader, Faro works in a technical breakout / range strategy, but has a different approach – much more risky (Risk Index – 89.6). The risk yields a higher cumulative return – 493%. This is the risky part in the portfolio, similar to tech stocks if you wish. Initial investment – $2000.
Jacek Florysiak: This trade leader is a fundamental trader – this means low risk and lower performance – another solid component in the portfolio, comparable to keeping the money in the bank. Initial investment – $3000.
Winsor Hoang: This trader trades on news events, enjoys many followers and is very consistent. His addition adds to the diversification of the portfolio. It's important to spread the investment between many traders, as you diversify a regular portfolio between different asset classes.  Initial investment: $2000.
Want to invest in forex?  Start here.
There's lots more information available on the traders – their biographies, currency pairs traded, experience in trading, percentage of winning/losing days and more. And of course, these 4 are my selected trade leaders. As you can see, there are many more to chose from – all successful traders which were cherry-picked for the program and monitored on a daily basis.
In the first few days after starting with the program, there's already an initial profit. Similar to mutual funds and different from trading, I don't need to monitor the portfolio very frequently and make changes all the time.
I can see all the trades made by the leaders, including detailed reports about S/L, T/P, slippage on execution and more. This information is good to have when I'll be thinking of making changes.
You are welcome to  get started here.
I'll keep you up to date with the performance, changes in the trade leaders and any other relevant piece of information regarding the forex investment portfolio on a weekly basis.
Full disclosure: As aforementioned, I'm affiliated with  Currensee.