The Australian dollar managed to pare some of its losses thanks to the news about the Chinese rate cut late in the week. But is this enough for a move to the upside?
The team at Morgan Stanley remain bearish on AUD/USD and  set targets:
Here is their view, courtesy of eFXnews:
Relative to consensus, Morgan Stanley remains among the most bearish on AUD/USD, targeting 0.84 by year-end 2014 and 0.76 by year-end 2015.
"Recent developments, both on the domestic and external fronts, only serve to deepen our conviction," MS argues.
First, MS thinks that the real effective exchange rate for AUD is yet to fully adjust to the softening terms of trade.
"Indeed, the continued decline in export prices is expected to result in a deeper terms of trade shock than previously expected by our economists," MS projects.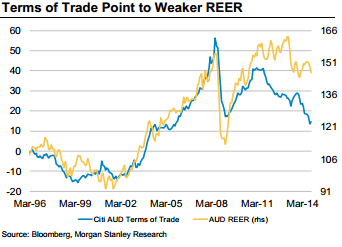 Second, MS notes that the recent commentary from Chinese policy-makers continues to show their commitment to reform and achieving economic rebalancing.
"As China reorients its growth model away from exports and investment toward domestic consumption, we expect economies that have seen significant terms of trade boosts and REER appreciations due to Chinese import demand to suffer. Australia is very much top of that list, in our view, and a weakening of the FX is critical to help drive Australia's own rebalancing toward boosting non-commodity export competitiveness," MS argues.
In line with this view, MS maintains a short AUD/USD position in its portfolio from 0.8850 targeting 84. MS entered another short position today as a short-term trade from 0.8670.
For lots  more FX trades from major banks, sign up to eFXplus
By signing up to eFXplus via the link above, you are directly supporting  Forex Crunch.