The euro is trading lower against both the rebounding US dollar and the  re-surging pound. What's next for the common currency? Here is the view from Morgan Stanley:
Here is their view, courtesy of eFXnews:
Next to Japan, EMU represents another case where the yield curve has been 'exhausted'. This environment has seen FX driven by money markets and less by long-term investment flows. Recall, negative nominal yields that find it difficult to fall further suggest that inflation expectations provide the bigger beta to real yields relative to nominal yields. Perversely, this currency environment suggests the EUR should work higher when the inflation outlook deteriorates and vice versa.This is when EMU becomes similar to Japan from an asset and FX perspective.
For the EUR to decline and to break this deflationary setup, it needs a mechanism to export capital.  However, EMU banks and insurance companies with their weak balance sheets will find it difficult to put on more balance sheet risk despite low EMU return expectations; this implies that the institutions may be inclined to export capital in quantity. EMU's corporate bond market could be used to exportEURs, should it grow such that the cash raised is used outside of the Eurozone instead. This process would weaken the currency.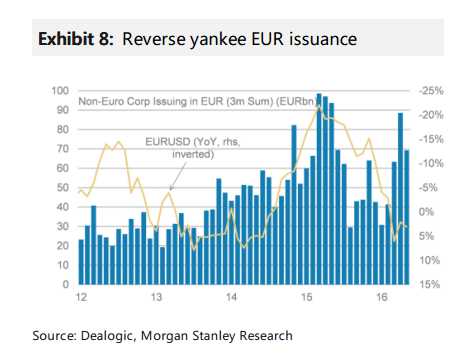 Accordingly, we think it will be difficult for the EUR to decline unless linked to a pronounced EMU asset sell-off.  June will be packed with risk events that could lead to a sell-off  .The outcome of the Spanish election ( June 26) and the UK referendum on the EU (June 23) represent significant political risks, while Germany's Constitutional Court decision on the OMT(June 21) may turn out to be an even bigger event.
Die Welt is suggesting that the Court is deeply split in opinion over whether the OMT does fit with German Constitutional requirements or not. Should the Court declare the OMTas not constitutional then the Bundesbank will have to stop participating in the program, which could pose a threat to its credibility.
Against this backdrop we expect a sharp increase in asset and FX volatility with investors potentially switching from GBP into EUR shorts, suggesting EURGBP would fall.
For lots  more FX trades from major banks, sign up to eFXplus
By signing up to eFXplus via the link above, you are directly supporting  Forex Crunch.