Dollar/CAD  continued suffering from Trump and his tariffs  while oil prices did not help too much. Canadian GDP stands out and trade remains crucial. Here are the highlights and an updated technical analysis for USD/CAD.
After bashing Canadian PM Justin Trudeau, US President Donald Trump was focused on China. The risk-off atmosphere and the specific sensitivity of Canada to trade with its southern neighbor weighed heavily on the loonie.
[do action="autoupdate" tag="EURUSDUpdate"/]
USD/CAD daily graph with support and resistance lines on it. Click to enlarge: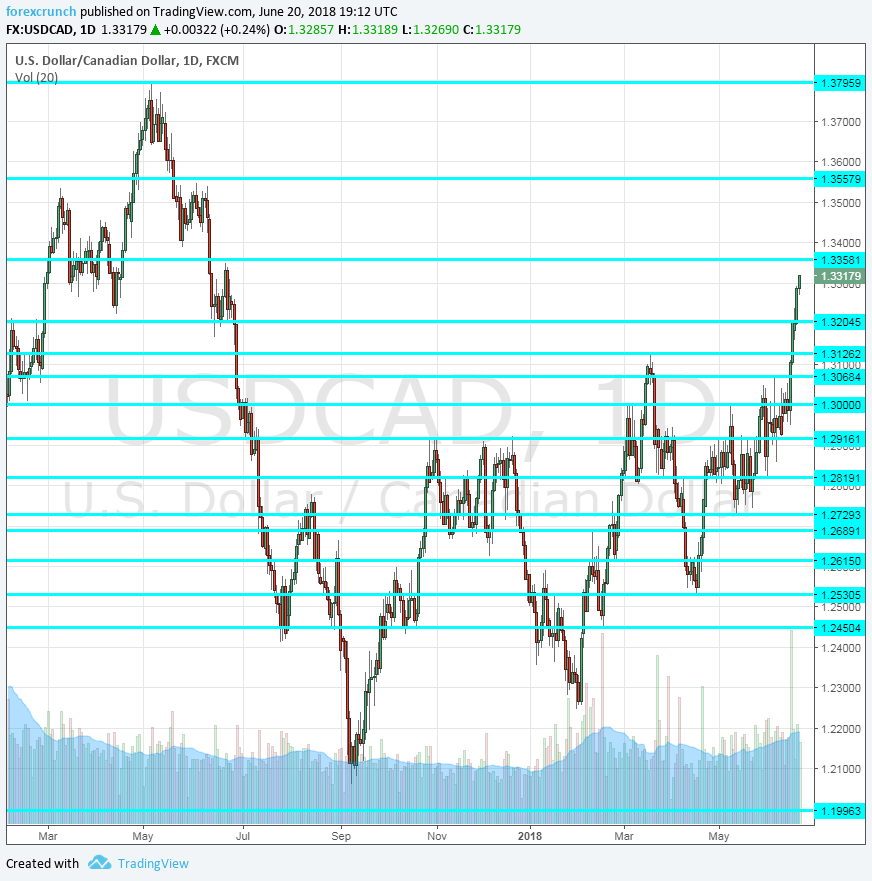 GDP: Friday, 12:30. The Canadian economy grew by 0.3% in the month of March, the last month of Q1. The upcoming read is a sneak peek at Q2, which may show a slightly slower growth rate. Canada is unique in publishing its GDP read on a monthly basis.
RMPI: Friday, 12:30. The Raw Materials Price Index is important for Canada and its energy exports. The indicator advanced by 0.7% in April and the figure for May may turn negative. The  Industrial Product Price Index rose by 0.5% and could follow the RMPI.
BOC Business Outlook Survey: Friday, 14:30. This important quarterly document has been used to signal changes to monetary policy in the past, so markets will be focused to see if there are any new hints. The Bank of Canada was optimistic in its latest rate decision but the souring of trade relations may change its mind.
*All times are GMT
USD/CAD Technical Analysis
Dollar/CAD continued rising and rising, topping 1.33 and reaching the highest levels since last summer.
Technical lines from top to bottom:
1.3795 capped the pair last April. 1.3560 capped the pair back in May 2017 and is a high point. 1.3360 heled the pair down on an attempt to recover in June 2017. 1.3205 is the close level on June 15th this year.
1.3125 is the high point for 2018 until it was broken. 1.3065 was the high point in May and also earlier in the year.
1.30 is a round number that is eyed by many. 1.2920 capped the pair in late April and early May as well. 1.2820 served as support in early May.
1.2730 was a swing low seen mid-May. It is followed by 1.2690 which was a swing high back in February.
I remain bullish on USD/CAD
While the recent move may look overextended, it is hard to exaggerate the level of damage caused to Canada by the growing uncertainty regarding its exports to the US and the potential breakdown of NAFTA talks. Uncertainty is already causing damage and if the trend continues, so will the rise in the pair and downfall of the Canadian Dollar.
Our latest podcast is titled  Festive Fed, Dovish Draghi, and a global trade war
Follow us on Sticher or iTunes
Further reading:
Safe trading!