The Canadian dollar recorded gains for a second straight week, as USD/CAD dropped to its lowest level since late July. This week's key events are the Federal election and retail sales reports. Here is an outlook at the highlights and an updated technical analysis for USD/CAD.
In Canada, CPI climbed
1.9%
on
an annual basis
in
September, beating the estimate of 1.7%. On the manufacturing front, manufacturing sales posted a solid gain of 0.8% in August, after two straight declines. The ADP nonfarm payrolls report posted a gain of 28.2 thousand in September, compared to 49.3 thousand a month earlier.
In the U.S., retail sales contracted in September. The headline reading declined by 0.3%, after a gain of 0.4% in the previous release. Core retail sales declined by 0.1%, missing the estimate of 0.2%. There was more dismal news, as Philly Fed Manufacturing Index dropped to 5.6 in October, compared to 12.0 points a month earlier.
USD/CAD daily chart with support and resistance lines on it. Click to enlarge: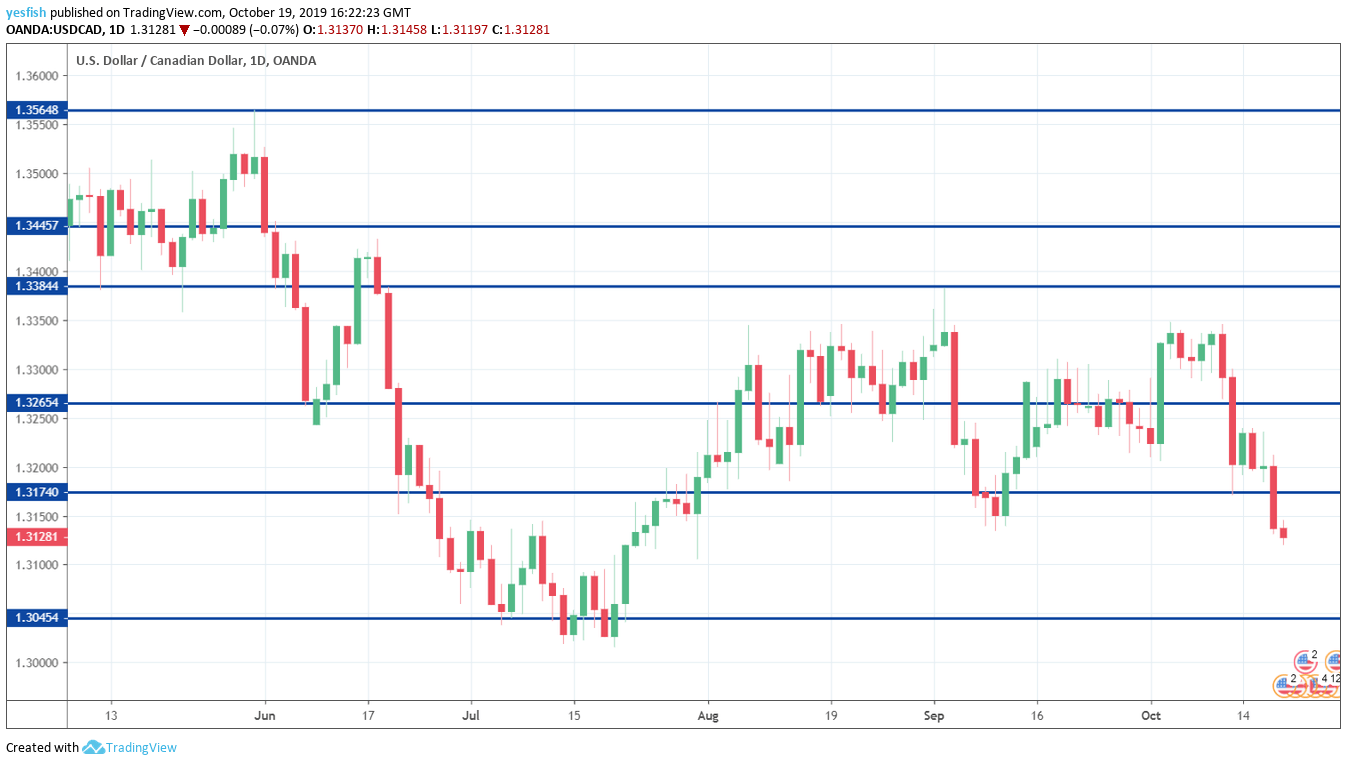 Federal Election: Monday, All Day. The election is expected to go down to the wire, with the Conservatives and Liberals running neck-and-neck. If the result is a minority government, this would mean some political uncertainty, which could weigh on the Canadian dollar.

Retail Sales Reports

: Thursday, 12:30. Retail sales is the primary gauge of consumer spending, and can have a significant effect on the movement of USD/CAD. In July, the core release came in at -0.1%, its second decline in three months. The headline reading improved to 0.4%, marking a 3- month high. We now await the August data.

BOC Business Outlook Survey

: Tuesday, 14:30. This well-respected survey looks at a wide range of business conditions, including spending and hiring expectations. It should be treated as a market-mover.
Wholesale Sales: Wednesday, 12:30. Wholesale Sales have been quite erratic, resulting in estimates that are often well off the mark. In July, the indicator sparkled with a gain of 1.7%, crushing the estimate of 0.0%. Will we see another strong gain in August?
USD/CAD Technical Analysis
Technical lines from top to bottom:
We start with resistance at 1.3565.
1.3445 has remained intact as resistance since the first week of June.
1.3350 has held since early September.
1.3265 has some breathing room in resistance.
1.3175 has switched to a resistance role after losses by USD/CAD last week.
1.3125 (mentioned last week) is an immediate support line. It has provided support since the end of July.
1.3048 is protecting the round number of 1.3000, which has psychological significance.
1.2916 has held firm since October.
1.2830 is the final support line for now.
I am neutral on USD/CAD
With the U.S. expected to trim rates again at the October meeting, the U.S. dollar could become less attractive. At the same time, weak U.S. data could lower risk appetite and weigh on the Canadian dollar.
Further reading:
Safe trading!
Get the 5 most predictable currency pairs