The Federal Reserve meets amid a growing focus on everything Brexit-related. Can they move the dial? The team at Goldman Sachs zooms in:
Here is their view, courtesy of eFXnews:
As Fed monetary policy normalization has gotten underway, there have been two kinds of FOMC meetings: (i)  those that have scaled back expectations for hikes in the near term, while keeping the long run target for the Funds rate unchanged; and  (ii)  those that scaled back the overall size of the tightening cycle, reducing the long run target for the Funds rate.
In previous FX Views, we argued that  it is the overall size of the hiking cycle that matters for our Dollar view and so we will be closely watching the long run rate in today's Statement of Economic Projections (SEP).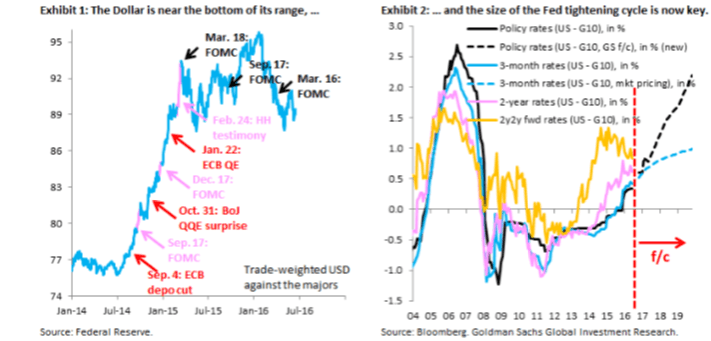 If, as our economists expect, the long run target falls by 25 bps to three percent, this would be the third time that the long run target rate has been cut since September 2015 and could signal that the Fed is gradually losing confidence in the kind of tightening cycle that history demands, in line with a recent FX Views where we argued that China's RMB problem may be causing the Fed to be more dovish all else equal.
If there is such a reduction in the long run rate, we see scope for the Dollar to weaken somewhat further today  even with Fed Funds futures pricing less than two hikes over the next two-and-a-half years.
If, instead, the long run rate remains unchanged, this could signal a Fed that is not re-evaluating its basic framework for policy normalization and could see the Dollar rally in coming weeks, especially if uncertainty around the British referendum is resolved in favor of a "remain" outcome.
For lots  more FX trades from major banks, sign up to eFXplus
By signing up to eFXplus via the link above, you are directly supporting  Forex Crunch.