The Canadian dollar already showed its weak hand,  following falling oil prices but not rising when the black gold rallied. This was  compounded by a rise in inventories of all types despite the lower Canadian production.
But what took USD/CAD above the round 1.30 level that capped it came from its southern neighbor: the US. The Fed minutes revealed willingness to hike rates in June (many conditions apply of course), something that was all but ruled by markets until several days ago.
Perfect Canadian mix
The widening of the open door from the Fed also widens the possibility that Dollar/CAD is more than correcting after a big fall: it may continue up and up and for the Canadian dollar, it means down and down.
This may certainly be desired: the Canadian economy did manage to mitigate the falling price of oil with exports of other goods, taking advantage of the weaker exchange rate. When that weak loonie turned into a storming C$, it triggered some concern from the Bank of Canada. A slide in the Canadian dollar with rising prices for its main export could be the perfect mix for the economy.
USD/CAD higher levels
The pair currently trades at 1.3030, significantly above the 1.30 level. The next line of resistance awaits at 1.3080 which supported the pair back in April. Further above, we find 1.3170 and more importantly 1.3220, both capping the pair at the same period of time.
Perhaps a key level to the upside appears at 1.33 – a round level and a serious cap for the pair back in late March. Another strong line on the upside is 1.3460.
On the downside we find 1.30, now serving as support, followed by 1.2930 and 1.2830. Very strong support awaits at 1.2750.
Here is the chart: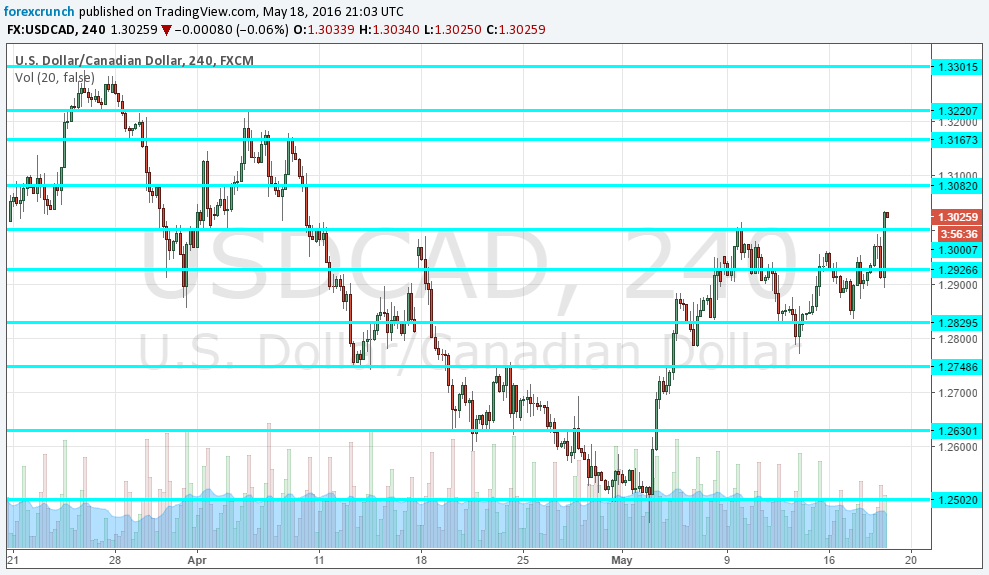 More: