The  Canadian dollar was almost unchanged last week, as USD/CAD  closed slightly above  the 1.30 line.  This week's highlight is GDP. Here is an outlook on the major market-movers and an updated technical analysis for USD/CAD.
US numbers enjoyed a good week, as New Home Sales jumped and unemployment claims dropped dramatically. Canadian  data was  mixed, as Wholesale Sales slipped, while Core Retail Sales posted a stronger gain than expected.
USD/CAD daily chart with support and resistance lines on it. Click to enlarge: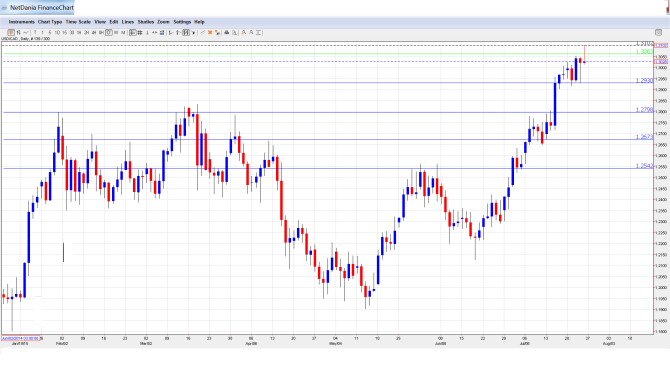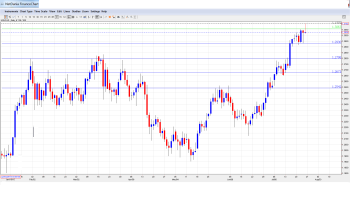 RMPI:  Tuesday, 12:30. This index is an important indicator of manufacturing inflation. The indicator has posted strong gains over two straight months. Will the indicator repeat with another strong gain in June?
GDP:  Friday, 12:30. Unlike most other industrial nations, Canada releases its GDP report on a monthly rather than quarterly basis. The indicator has posted two straight declines, falling short of the estimate on each occasion. The April reading came in at -0.1%, and little change is expected in May, with a forecast of 0.0%.
* All times are GMT.
USD/CAD Technical Analysis
USD/CAD opened the week at 1.2988 and  slipped to a low of 1.2916, testing support at 1.2924 (discussed last week).  The pair then reversed directions and climbed to a high of 1.3053. USD/CAD closed the week  at 1.3028.
Live chart of USD/CAD: [do action="tradingviews" pair="USDCAD" interval="60″/]
Technical lines, from top to bottom
We start with resistance at 1.3443.
1.3346 has held firm since August 2004.
1.3165 is the next line of resistance.
1.3063 is  just above the symbolic line of 1.30.
1.2924 was tested in support as the pair dipped before recovering.
1.2798 is the next line of support.
1.2673 marked the start of the current  greenback rally which has seen the pair push above the 1.30 level.
1.2541  is the final support level for now.
I am bullish on USD/CAD
The pair has been  trading at high levels  since the BOC surprised with a rate cut earlier in July. In the US, meanwhile, speculation is increasing about a rate hike shortly, perhaps as early as September. All eyes will be on the Fed policy statement later this week, as any hints about a rate hike could help the US dollar rally even higher.
In our latest podcast, we drill down the deals, the aGreekment and Iran and the market impact.
Further reading: