The Canadian dollar was almost unchanged last week, as USD/CAD  closed  the week at  1.3340. The upcoming week has just three events.  Here is an outlook on the major market-movers and an updated technical analysis for USD/CAD.
The Federal Reserve minutes didn't contain any surprises, as the guessing game continues regarding a rate hike in December. US Core Inflation met expectations, with a gain of 1.9%. Canadian Retail Sales beat the forecast at 0.3%, but Core Retail Sales missed the estimate with a poor reading of -0.5%.
[do action="autoupdate" tag="USDCADUpdate"/]
USD/CAD daily chart with support and resistance lines on it. Click to enlarge: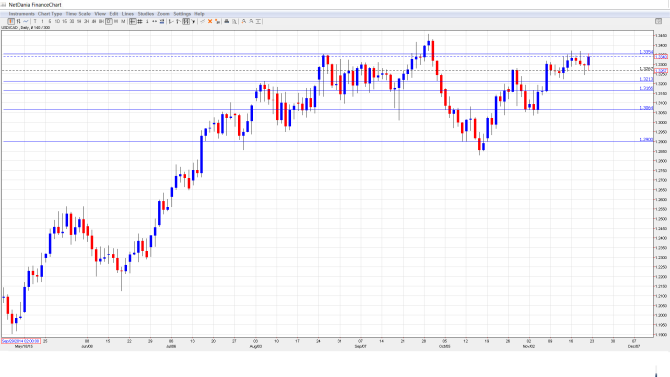 BOC Deputy Governor Lynn Patterson Speaks:  Tuesday, 20:30. Patterson will speak at an event in Regina. A speech that is more hawkish than expected is bullish for the Canadian dollar.
Corporate Profits:  Thursday, 13:30. Corporate Profits provides a snapshot of the strength of the business sector. The indicator posted a gain of 12.9% in Q3, after two straight declines.
RMPI: Friday, 13:30. The Raw Materials  Price Index measures inflation in the manufacturing sector. The index posted a gain of 3.0% in September, easily beating the estimate of 1.2%. This marked the first gain since May. Will the index repeat with a gain in the October report?
* All times are GMT.
USD/CAD Technical Analysis
USD/CAD opened the week at 1.3318 and  climbed to a high  of 1.3371. The pair then reversed directions,  dropping to a low of  1.3246,  as  support held firm at 1.3213  (discussed last week).  USD/CAD closed the week at 1.3340.
Live chart of USD/CAD: [do action="tradingviews" pair="USDCAD" interval="60″/]
Technical lines, from top to bottom
We  begin with resistance at 1.3759.
1.3587 was a cap in March 2004.
1.3443 has held firm since late September.
1.3353 was tested and remains a weak resistance line.
1.3213 held firm in support for a second straight week.
1.3165 is the next support line.
1.3063 is protecting the symbolic 1.30 line.
The very round line of 1.2900 is  the final line of support for now.
I am  bullish on USD/CAD
With speculation rising that the Fed could press the rate trigger in December, the US dollar is in an excellent position to post broad gains. Revisions to the Preliminary GDP will be released during the week, and a strong reading could bolster the US dollar.
Our latest podcast is titled Between Terror and Thanksgiving:
Follow us on Sticher or on iTunes
Further reading: