USD/CAD  showed some fluctuation last   week, but ended  the week with little movement,  as the pair closed  at 1.3280. This week's highlights  are Manufacturing Sales and Core CPI. Here is an outlook on the major market-movers and an updated technical analysis for USD/CAD.
In the US, we had some good  employment news from JOLTS  Job Openings  but disappointing consumer confidence ahead of the big event: the all important Fed meeting coming up late  this the week.  Over in Canada, the BOC held rates at 0.50% and Building Permits posted a slight decline, beating expectations.
[do action="autoupdate" tag="USDCADUpdate"/]
USD/CAD daily chart with support and resistance lines on it.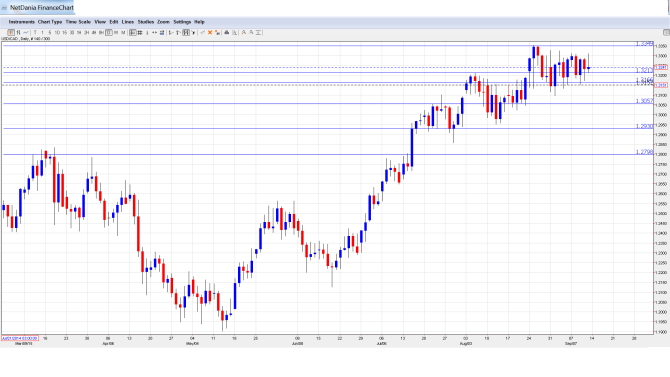 Manufacturing Sales:  Wednesday, 12:30. This week's events kick off with a key indicator, Manufacturing Sales. The indicator posted   a strong gain of 1.2% in June, but this was way short of the forecast of 2.3%. Will we see another gain in the July report?
Foreign Securities Purchases:  Wednesday, 12:30. This indicator is linked to demand for the Canadian dollar, as foreigners buying Canadian securities must purchase Canadian dollars. The indicator rebounded in June, posting a gain of $C8.51 billion, compared to  estimate of $C-5.95 billion.
BOC Deputy Governor Agatha Cote Speaks:  Wednesday, 17:20. Cote will speak at an event in Winnipeg. The markets will be listening carefully for any hints regarding future interest rate moves by the BOC.
Core CPI: Friday, 12:30. This is the key event of the week. Core CPI excludes the most volatile items which are covered by CPI, which helps minimize distorting data. The index has been quite steady, with two straight readings of 0.0%.  A negative reading in the August report could push the Canadian dollar downwards.
CPI:  Friday, 12:30. CPI is the primary gauge of consumer inflation. The index continues to soften, and posted a weak gain of 0.1% in July, marking a 3-month low. Will the index rebound in the August release?
* All times are GMT.
USD/CAD Technical Analysis
USD/CAD opened the week at 1.3276 and  quickly  climbed to a high  of 1.3310. The  pair  dropped to a low of 1.3153, testing  support at 1.3165  (discussed last week).  USD/CAD closed the week at 1.3280.
Live chart of USD/CAD: [do action="tradingviews" pair="USDCAD" interval="60″/]
Technical lines, from top to bottom
We  start with resistance at 1.3759.
1.3587 was a cap in March 2004.
1.3443 is the next line of resistance.
1.3346 has held firm since August 2004.
1.3213 was an important cap in early August.
1.3165 continues to be active. It  was tested  during the week and remains  an immediate support line.
1.3063 is  protecting the  symbolic line of 1.30.
1.2930 has held firm since late July.
1.2798 is the final support line for now.
I am bullish on USD/CAD
The US economy continues to outperform its northern neighbor, and upcoming national elections in Canada means uncertainty which could hurt the Canadian dollar. Will the Fed press the rate trigger? Even if not, hawkish talk from Yellen could push the greenback to higher levels.
In our latest podcast, we  prepare you for the Fed decision from all directions
Further reading: