USD/CAD reached parity but couldn't close below this level in a nervous week, after it bounced off downtrend support. Will the pair continue south? Ivey PMI, Trade Balance and employment claims are the highlight of this week. Here is an outlook on the major market-movers and an updated technical analysis for USD/CAD.
Last week Canada's gross domestic product disappointed with a 0.1% rise in May after expanding 0.3% in April, amid small gains in retail trade and the financial sector. Overall manufacturing dropped 0.5% and construction also declined by 0.2%. Economists expected a 0.2% growth rate. Is this a temporary relapse or a beginning of a downside trend?
Updates: Monday is a Bank Holiday in most of Canada. Building Permits and PMI will be released on Tuesday. The USD/CAD is choppy as we begin the trading week. The pair was trading at 1.0013. The loonie edged higher, as USD/CAD dropped back below parity. The pair was trading at 0.9987. After a strong July reading, Building Permits dropped 2.5%. However, the Ivey PMI sparkled at 62.8 points, a four-month high. The reading easily beat the estimate of 52.0 points. BOC Governor Carney will be speaking at a conference in London later on Wednesday. The loonie edged higher, as USD/CAD was trading at 0.9967. Three releases will be published later on Thursday, including Trade Balance. The markets are expecting little change in this key indicator. USD/CAD is choppy, as the pair was trading at 0.9948.
USD/CAD daily chart with support and resistance lines on it. Click to enlarge: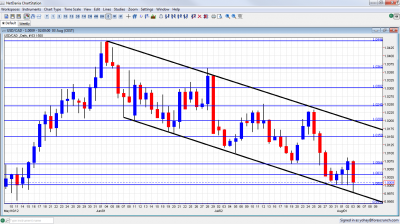 Building Permits: Tuesday, 12:30. The value of Canadian building permits soared by 7.4% in May from a 4.4% decline in April reaching the highest level in five years. The rise was well beyond predictions of a 0.7% increase and occurred due to a number of construction plans for institutional buildings and for multi-family housing in the Western region of the country. A drop of 3.5% is expected now.
Ivey PMI: Tuesday, 14:00. – The Canadian Ivey Purchasing Managers Index, plunged unexpectedly to49.0 in June after reaching60.5 in May indicating contraction in purchasing power. On a yearly base Ivey PMI (NSA) was 19.2 lower than in June 2011. An improvement to 51.7 is predicted now.
Housing Starts: Thursday, 12:15. Canadian annualized rate of housing starts jumped  unexpectedly in June to 223,000 from217,000 in May, amid multiple urban starts in Quebec andBritish Columbia. Analysts expected a 203,000 annualized rate. In light of the growth trend in the housing sector Canadian government decided to tighten conditions for both homebuyers and mortgage lenders to prevent the formation of a bubble ready to explode Canadian annualized rate of housing starts  is forecaste to reach 212,000.
Trade Balance: Thursday, 12:30.Canada's trade deficit unexpectedly grew to C$793 million from C$623 million in April amid a 0.4% boost in imports while exporters barely grew in light of the European debt crisis. Falling oil prices contributed to the deficit increase since Canada is a major exporter of energy products. A further rise to C$900 is predicted now.
NHPI : Thursday, 12:30. The New housing price index (NHPI) increased 0.3% on a monthly basis in May, after a 0.2% rise in April and above the 0.2% increase expected by analysts. The main increase occurred in Sudbury and Thunder Bay while declines were recorded in Victoria (-0.8%) and Charlottetown (-0.4%). Another increase of 0.4% is anticipated.
Employment data: Friday, 12:30. Canadian companies hired 7,300 workers in June following a 7,700 increase in the previous month. The number of part-time jobs dropped 22,000, replaced by full-time positions which rose by 29,300. Meantime unemployment rate declined slightly from 7.3% to 7.2% in June indicating an improvement in the Canadian Job market.  An addition of 10,200 new jobs is predicted with a rise to 7.3% in unemployment rate.
* All times are GMT.
USD/CAD Technical Analysis
Dollar/CAD started the week above the 1.0030 line (mentioned last week) before making repeated attempts on parity. Only after rising higher, the fall that followed found the pair temporarily below parity, before closing at 1.0009.
Technical lines, from top to bottom:
1.0750 was the peak of ranges several times in the past few years, and is a very important line. 1.0660 was last seen in September 2011, but this line was also a long running swing high several times beforehand.
1.0523 was a peak back in November and is minor resistance. 1.0460 capped the pair in June 2012 and also had a minor role in the past. It is now high resistance.
1.0360 was a pivotal line in June 2012 and is now significant resistance. It proved its strength in June 2012. The round number of 1.03 was resistance at the beginning of the year and now returns to this role. It worked perfectly well during June – over and over again, until finally being run through.
1.0245 served as a separator for the move up when the pair rallied in May 2010 and regains some strength now, thanks to capping the pair in July 2012, twice during this month The round figure of 1.02 was a cushion when the pair dropped in November, and also the 2009 trough. It remains a distinct separator after working as such in July.
1.0150 was a swing low in September and worked as resistance several times afterwards. It was challenged in June 2012. and served as a separator in July 2012.
1.0066 was key support before parity. It's strength during July 2012 was clearly seen and it gave a fight before surrendering. Now, it is somewhat weaker. 1.0030 is another line of defense before parity after capping the pair earlier in the year. The move below this line is not confirmed yet.
The very round number of USD/CAD parity is a clear line of course, and the battle was very clear to see at the beginning of August 2012. Under parity, we meet another pivotal line at 0.9950. It served as a top border to range trading in March 2012 and later as a line in the middle of the range.
0.99, the round number is now present on the graph after capping the pair in May 2012.  0.9840 provided support for the pair during September and was reduced to a minor line now.
Lower, 0.9725 worked as strong support back at the fall of 2011. The last line for now is 0.9667, which was another strong cushion in the past.
Downtrend Channel
As you can see on the graph, the pair is trading in a downwards channel that began at the beginning of June. The pair bounced off downtrend support towards the end of the week, making it even more important. Downtrend support is more significant than downtrend resistance. It's important to note that the pair is close to support now.
I remain bearish on USD/CAD.
Even if the optimism in Europe towards massive ECB bond buying fades, Canada's fundamentals certainly support it: higher demand from the US that enjoyed a good jobs report, higher oil prices and an economy that continues growing. Employment is critical.
Further reading:
Get the 5 most predictable currency pairs