A few interesting releases expect the loonie. Here's an outlook for the Canadian events, and an updated technical analysis for USD/CAD.
USD/CAD chart with support and resistance lines marked. Click to enlarge: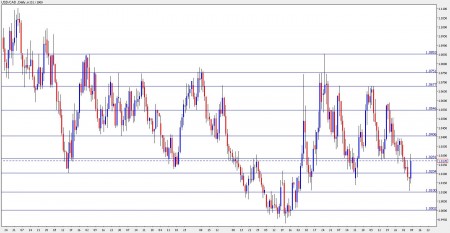 Canada's employment figures were very disappointing, and only a bigger disappointment in Non-Farm Payrolls from the US stopped USD/CAD from going higher. Let's start:
Housing Starts: Published on Tuesday at 12:30 GMT. This important housing sector figure always rocks the loonie. After peaking at 201K, the annualized number of starts fell to 193K. A small rise is expected this time. A jump back above 200K will sure help the loonie, but expectations are low – 185K.
NHPI: Published on Tuesday at 12:30 GMT. The New Housing Price Index is a very steady indicator – it rose by 0.3% each time in the past three month, showing the stability of the housing sector. A rise in a smaller scale will probably be seen now. Note that this publication is slightly overshadowed by the housing starts number.
Trade Balance: Published on Wednesday at 12:30 GMT. Canada's balance dropped to a deficit last month – of 500 million, after previous months that showed a surplus, at least in the first release. A surplus of 400 million is expected now. This figure is release simultaneously with the American trade balance, that stands on a deficit of over 40 billion. This double-feature releases means high volatility for USD/CAD.
New Motor Vehicle Sales: Published on Friday at 12:30 GMT. After two weak months that saw big drops in vehicle sales, this consumer indicator rose by 0.2% last month. A bigger increase is due now – 2.1%.
USD/CAD Technical Analysis
Tight range trading, between 1.0280 and 1.02 characterized the pair's trading at the beginning of the week. It then broke below 1.02 and got close to the next support line of 1.01 before bouncing back up and closing at 1.0270.
Most lines haven't changed since last week's outlook. USD/CAD is back to the 1.02 – 1.0280 range. Above 1.0280, the next line of resistance is 1.04.
1.04 was the long term support line of the 1.04 to 1.0750 range, and now works as a tough resistance line. Above, 1.0550 stopped the pair several times in the past, and is a minor resistance line.
The next line of resistance is at 1.0680, which stubbornly held the pair in June and several times in July. Apart from being the long term top border of the range, 1.0750 was also tested in May. Above, 1.0850 was a swing high in 2009 and a swing high in May as well.
Looking down under 1.0280, the 2009 low of 1.02 is the next support line. Note that it also worked as resistance after the pair hit parity in April. Lower, 1.01 is a minor line of resistance, and it's followed by the ultimate support line – parity.
I remain bearish on USD/CAD.
Despite the blow from the employment figures, the situation in Canada is still great, and the Federal Reserve could weaken the greenback, sending USD/CAD for another attempt on parity.
Further reading:
Want to see what other traders are doing in real accounts? Check out Currensee. It's free..