USD/CAD advanced nicely and broke to fresh 7 month highs as the greenback enjoyed the FOMC meeting minutes and Canadian figures disappointed. GDP is the highlight of this week. Here is an outlook on the major market-movers and an updated technical analysis for USD/CAD.
Last week, retail sales figures on December showed the biggest decline in almost three years, Sales plunged 2.1% to C$38.6 billion, amid sluggish car purchases, following a 0.3% rise in the previous month.  Meanwhile core sales excluding automobiles declined 0.9%. The readings indicating Canadian economy remained weak at the end of last year. Will the coming months be better? In the US, the dollar enjoyed the relatively hawkish meeting minutes. Can Bernanke play down the dollar now? Not so fast. There are good reasons why the Canadian dollar is falling. The Current Account deficit narrowed in February to 17.3 billion dollars, but this was still above the estimate of a deficit of 16.9 billion. RMPI jumped 3.8%, well above the estimate of 1.4%. IPPI showed no change. The forecast stood at 0.2%. GDP for Q4 will be released on Friday. The markets are bracing for a decline of 0.2%.
Updates: USD/CAD reached an 8 month high as the Italian elections became messy and as Mark Carney said that Canadian data has broken to the downside. Corporate Profits will be released later on Tuesday. The Canadian dollar can't seem to find its footing, as the greenback has made slow but steady gains. USD/CAD was trading at 1.0260. The Current Account deficit narrowed in February to 17.3 billion dollars, but this was still above the estimate of a deficit of 16.9 billion. RMPI jumped 3.8%, well above the estimate of 1.4%. IPPI showed no change. The forecast stood at 0.2%. GDP for Q4 will be released on Friday. The markets are bracing for a decline of 0.2%. The Canadian dollar has edged lower, as the pair was trading at 1.0258.
USD/CAD daily chart with support and resistance lines on it. Click to enlarge: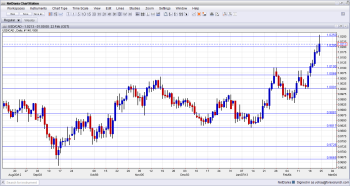 Mark Carney speaks:

Monday, 17:15. Mark Carney, Bank of Canada Governor and the next Governor of the Bank of England will speak at the Richard Ivey School of Business, in Ontario. His words may cause volatility in the market. He will probably discuss the recent slowdown in the Canadian job market and the probability of maintaining interest rate at 1.0%.

Corporate Profits:

Tuesday, 13:30. Companies earnings increased by 3.7% in the third quarter, reaching $72.2 billion, following a 4.9% decline in the previous quarter. On a yearly base, operating profits were 3.1% higher in the third quarter.

Current Account:

Thursday, 13:30. Canada's current account deficit increased in the third quarter to C$18.91 billion ($19.10 billion) after registering C$18.4 billion in the second quarter. Exporters are challenged by weak foreign demand and the strong Canadian dollar, which impedes on the competitiveness of their goods. An improvement to C$16.3 billion is expected now.

RMPI :

Thursday, 13:30. Canadian raw materials price index declined 2.0% in December following a 1.9% in November, amid lower mineral fuel prices. Economists expected a 0.9% rise. Meanwhile, industrial product prices remained unchanged in December from November, mainly because of a stronger Canadian dollar. Analysts expected a small increase of 0.1%. RMPI is expected to gain 1.1%, while IPPI is forecasted to gain 0.2%.

GDP: Friday, 13:30. Canada's economy grew faster than expected in November, rising 0.3% following a small rise of 0.1% in October. The reading beat analysts' predictions of a 0.2% expansion rate. The rise included major industrial sectors. A contraction of 0.1% is expected.
* All times are GMT.
USD/CAD Technical Analysis
$/CAD began the week with a clear break above the all-important 1.01 line, mentioned last week. It then challenged the 1.02 line, and a first attempt didn't succeed. At the end of the week, a surge was seen to 1.0250 but the pair eventually closed lwoer, at 1.0213 All in all, USD/CAD is becoming a much more technically friendly pair.
Technical lines, from top to bottom:
We start from a higher point this week. 1.0750 was the peak of ranges several times in the past few years, and is a very important line. 1.0660 was last seen in September 2011, but this line was also a long running swing high several times beforehand.
1.0523 was a peak back in November 2011 and is minor resistance. 1.0460 capped the pair in June 2012 and also had a minor role in the past. It is now high resistance.
1.0360 was a pivotal line in June 2012 and is now significant resistance. It proved its strength in June 2012. The round number of 1.03 was resistance at the beginning of the year and now returns to this role. It worked perfectly well during June – over and over again, until finally being run through.
1.0250 was a peak before the pair moved below parity a long time ago. 1.02 was the trough of 2009 and remains important since then, working in both directions. These are the key lines for now.
Another round number, 1.01, was a trough back in July, and switched to resistance afterwards. The line proved its strength several times in 2013. 1.0066 was key support before parity. It's strength during July 2012 was clearly seen and it gave a fight before surrendering. It has a stronger role after capping the pair during November 2012, but has begun weakening.
The very round number of USD/CAD parity is a clear line of course, and the battle was very clear to see at the beginning of August 2012 and also in 2013. It is a clear separator. 0.9950 provided some support for the pair during November and worked as resistance earlier. Its stubborn behavior as resistance in December proved its strength.
0.9910 remains the chart after serving as a bottom border for the pair in November 2012. It already managed to work as weak resistance in December 2012. 0.9880 showed that it is a clear separator in October 2012. It also had a role in the past. This line switches roles once again.
0.9817 was a stubborn peak in September and is now significant support. As seen in December 2012, this line worked as a cushion. It worked very nicely in January 2013. Lower, 0.9725 worked as strong support back at the fall of 2011 and showed its strength once again in October 2012.
0.9667, which was another strong cushion in June 2011 is the next line. The round number of 0.96 provided some support back in 2011 and is minor now.
I remain bullish on USD/CAD.
The disappointing retail sales figure joined the drop in both jobs and housing starts and the increasing dovish stance of the BOC. On the other side of the border, the US saw a relatively hawkish document – the FOMC meeting minutes. While the Fed is still far from easing, these small changes in the sentiment from the central banks now work towards a higher USD/CAD.
 Further reading:
Get the 5 most predictable currency pairs