The Canadian dollar slid against the greenback, but USD/CAD eventually remained below parity. Canadian GDP is the main event this week. Here's an  outlook  for the Canadian events and an updated technical analysis for USD/CAD.
Last week Wholesale sales and retail sales registered lower than expected readings signaling a temporary contraction in the Canadian economy amid high household debt levels and feeble employment growth. Will this trend continue?
Updates:  USD/CAD is steady, trading at 0.9953.  The markets are waiting  for the RPMI and GDP releases later in the week.  RPMI disappointed with a 0.5% drop, well below the market forecast of an increase of 0.4%.
USD/CAD  daily chart with support and resistance lines on it. Click to enlarge: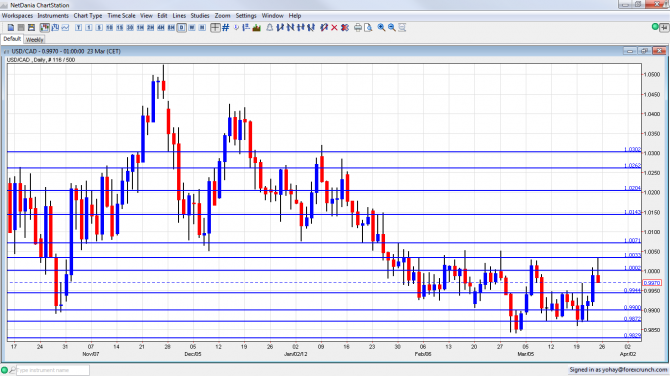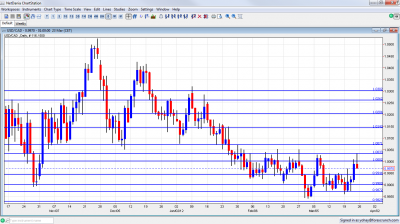 Mark Carney speaks: Monday, 17:00. BOC Governor Mark Carney is scheduled to speak is Quebec. His words may cause volatility in the market.
RMPI:  Thursday, 12:30. Raw Materials Price Index increased 0.1% in January following a 2.5% drop in December. The gain was mainly due to higher prices of non-ferrous metals and timber. Meanwhile Industrial Product Price Index (IPPI) gained 0.3% in January amid higher petroleum products and primary metals. On a yearly base IPPI rise 2.3% in January compared with the same month last year continuing a moderate growth of prices. RMPI is expected to gain 0.4% while IPPI is predicted to rise 0.6%.
Annual Budget Release: Thursday, 20:00. Canadian Finance Minister Jim Flaherty will introduce the federal government's 2012 budget with a detailed plan to cut Canadian Federal budget deficit by mid-decade taking into account the risks from the European debt crisis and other downside risks.
GDP: Friday, 12:30. In December, the Canadian economy expanded by 0.4% from November, more than the 0.3% growth predicted rebounding from the 0.1% drop in November. A number of analysts predict the first quarter growth rate will go beyond the central bank's forecast of a mild 1.8% expansion. A small expansion of 0.1% is expected this time.
* All times are GMT.
USD/CAD  Technical  Analysis
Dollar/CAD kicked off the week with a drop to lower ground, but this was short lived. The pair later climbed and even crossed parity, to hit 1.0030 (a line that didn't appear last week) before closing under parity.
Technical lines, from top to bottom:
1.0423 is a stubborn line in the distance. It capped the pair at the end of 2011. The round number of 1.03 was the peak of a move upwards seen in November 2010 and has found new strength after working as a cap in January 2012.
1.0263 is the peak of surges during October, November and December, but was shattered after the move higher. It's far at the moment.  The round figure of 1.02 was a cushion when the pair dropped in November, and also the 2009 trough. It is weaker now but remains pivotal.
1.0143 was a swing low in September and worked as resistance several times afterwards.  Closer to parity, 1.0070 provided support around the turn of the year, and is now closer.
1.0030 capped the pair twice in March 2012 and proved to be strong. The very round number of USD/CAD parity is a clear line of course, and was a line of battle that eventually saw the pair fall lower.
Under parity, we have a new line at 0.9950. It served as a top border to range trading in March 2012. The round number of 0.99 provided support on a fall during October and also served as resistance back in June. It is now a pivotal line in the middle of the range.
0.9870 was a trough reached once and challenged afterwards, and serves a bottom border of the range. 0.9830 provided support for the pair during September and is now stronger after a first attempt to breach it failed.
0.9780, where the current run began is the next and important support line. It is closely followed by 0.9736, which provided support during August 2011.
The veteran 0.9667 line worked as support at the beginning of 2011 and then for several months during the spring. It is a very clear and strong line on the chart. 0.9550 worked as support during April and also June and is minor now.
0.9406 was the trough in July 2011 and is the final frontier for now. Below this line, its back to 2007.
I am bullish on USD/CAD.
The Saudi decision to tackle  oil prices  weighs on the Canadian dollar. In addition, the growing fears of a housing bubble in Canada also take their toll. On the other hand, the stronger US economy, as recently seen in jobless claims, is also good for Canada, as it depends on US demand.
Further reading: