USD/CHF  showed some upward movement, but was unchanged over the week, as  the pair closed at 0.9497.  The upcoming week is a quiet one, with just four releases. Here is an outlook for the Swiss events, and an updated technical analysis for USD/CHF.    
Last week's releases were uneventful, as the Libor rate remain unchanged and PPI was close to the market estimate. With the turmoil in Spain and the Greek elections,  this week could be far busier for USD/CHF.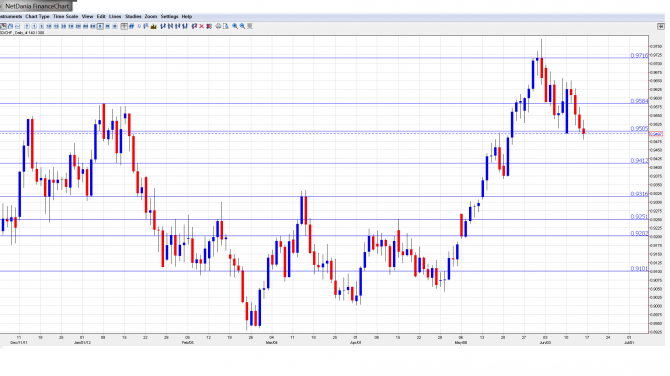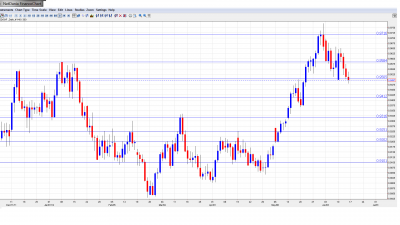 Updates: There are no releases scheduled until Wednesday. The Swiss franc initially improved following the election results in Greece,  but then weakened, as the markets focused on the deep economic problems in both Greece and Spain. The swissie lost ground following the Greek election, but has retraced somewhat. USD/CHF was trading at 0.9520. The markets are waiting for the release of the ZEW Economic Sentiment on Wednesday. This follows the publication of these indicators  for  Germany and the Euro-zone on Tuesday, both of which were very weak.  ZEW Economic Expectations plunged in May, droppping to a staggering -43.4 points, the worst reading since January. The swissie shrugged off the weak data, as it edged upwards  against the greenback. USD/CHF was trading at 0.9436. Trade Balance recorded a three month high, as the surplus increased to 2.48 billion. This easily exceeded the market estimate of 1.97B. The Swiss franc was down, as USD/CHF was trading at 0.9478.
USD/CHF daily graph with support and resistance lines on it. Click to enlarge:
ZEW Economic Expectations: Wednesday, 9:00. This index is based on a survey of institutional analysts and investors. The index has improved dramatically, after being in deep negative territory earlier in 2012. The index posted a May reading of -4.0 points. Can it rebound back into positive territory this month?

Trade Balance: Thursday, 6:00. Trade Balance dropped to 1.33 billion in May, its worst performance since September 2011. The markets are expecting a strong improvement in June, with a forecast of a 1.97B surplus.

Industrial Production: Thursday, 7:15. This indicator tends to fluctuate quite a bit, so market forecasts often miss the mark. The May reading was excellent, with a 7.9% increase. However, the markets are braced for a sharp reversal, with an estimate of -7.5%.

SNB Quarterly Bulletin: Friday, 7:30. This report is published quarterly, but tends to have a mild impact, as much of the information has already been released. A report which is more hawkish than expected is bullish for the Swiss franc.
*All times are GMT
USD/CHF Technical Analysis
USD/CHF opened the week at 0.9498, and climbed to a high of 0.9650. The pair then retraced, dropping to a low of 0.9481, as the resistance line of 0.9510 (discussed last week) was breached. The pair closed at 0.9497.
Technical lines from top to bottom:
We begin above the parity line, with resistance at 1.0066. This line has not been tested since November 2010. This is followed by parity, which continues to be a strong line of resistance. Next, there is resistance at 0.9915, which has held firm since December 2011. Below, there is resistance at 0.9783. This is followed by resistance at 0.9719, which held firm this week, as the dollar strengthened during the week before retracing.
The next line of resistance is at 0.9584. This is followed by weak   resistance at 0.9510. This line was briefly breached by the pair on its move upward, and could be further tested this week.
USD/CHF is receiving support at 0.9412. This line had provided resistance throughout 2012, until it was breached in May on the sharp downward slide by the pair.  This is followed by support at 0.9317. Below, there is support at 0.9250, which had been a strong resistance line for several months prior to May.
Close by, 0.9204 is providing support,  protecting the 0.92 line. Below, is the round figure of 0.91, which the pair repeatedly tested in April. The final support line for now is 0.9053.
I am neutral on USD/CHF.
With the Euro-zone in turmoil and weak data out of the US, investors can be forgiven for wondering where to park their funds. The Greek elections, which are too  close to call,  could well determine whether Greece remains in the Euro-zone. Even if the pro-bailout parties form the next coalition, they will have their work cut out with Greece's precarious fiscal situation. We could see a strong reaction from the currency markets following the Greek elections.
Further reading: