USD/CHF moved upwards this week over 100 pips, as the pair closed at 0.9180, its highest level since mid-April. All four  releases will be published early in the week, including  Foreign Currency Reserves and CPI.  Here is an outlook for the Swiss events, and an updated technical analysis for USD/CHF.
The Swiss franc lost ground against the dollar, as weak employment news in the Euro-zone  and mounting concern over Spain out of the Euro-zone  pushed the dollar higher. The markets shrugged off an outstanding  Swiss Retail Sales release on Friday, as investors are clearly worried about the economic situation in Europe.
Updates: The Unemployment Rate remained unchanged, at 3.1%. Foreign Currency Reserves declined,, as the indicator posted a reading of 235.6B for the May reading, compared to 237.5B the previous month.   CPI fell sharply in April, posting an increase of just 0.1%. The markets estimate stood at 0.2%. USD/CHF was trading at 0.9220.  USD/CHF dropped briefly below the 0.92 level, but has bounced back, as  the pair  was trading  at 0.9219. The Swiss franc continues to sag, as the market digests the election results in France and Greece earlier in the week. USD/CHF was trading at 0.9256. There are no further Swiss economic releases scheduled for the remainder of the week. USD/CHF continues to move upwards, as the pair was trading at 0.9285. The 0.93 line could be tested shortly if the swissie continues to weaken.
USD/CHF daily graph with support and resistance lines on it. Click to enlarge: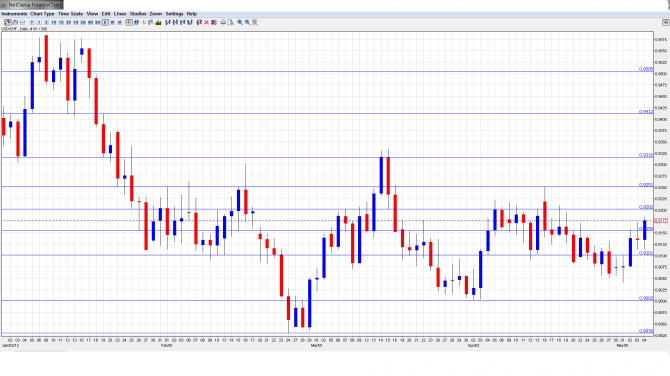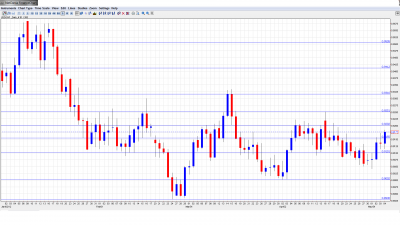 Unemployment Rate: Monday, 5:45. The unemployment rate has been level  at 3.1% all year, and no change is   expected in May. The market forecasts are usually very accurate for this indicator, so traders should not expect any surprises from this release.

Foreign Currency Reserves: Monday, 7:00. This indicator was up sharply in April, recording a  three-month high of 237.5B. Another strong reading this month will be bullish for the swissie.

CPI: Monday, 7:15. The inflation index, a key indicator,  jumped by  0.6% last month, its highest level since April 2011. The markets are predicting a modest increase of 0.2% in  May.  

SECO Consumer Climate: Tuesday, 5:45. This quarterly release has been stuck in negative territory since February 2011. The index posted a weak reading of -19 points in February, and the market forecast calls for a similar reading in May.
*All times are GMT
USD/CHF Technical Analysis
USD/CHF opened at 0.9072,   and then dropped to a low of 0.9043. The pair then rallied, reaching a high of 0.9185, as the resistance line of 0.9204 (discussed last week)  held firm.  USD/CHF  closed  the week  at 0.9181.  
Technical lines from top to bottom:
We begin with the resistance line of 0.9584, which was last tested in February 2011, at which time USD/CHF went into a steep decline. Next, there is  resistance just above the round number of 0.95, at 0.9510. This line has remained intact since January. Below, is the resistance line of 0.9412, which as also held firm throughout 2012. Next is 0.9317, which is providing strong resistance to USD/CHF.
This is followed by 0.9250, which has not been tested since mid-March. Close by, 0.9204, which was repeatedly tested in April, continues to provide weak resistance. This line will likely be tested if the pair continues on its upward swing. Next is 0.9156, which was breached this week, and is now providing the pair with weak support.
This is followed by the round figure of 0.91, a fluid line which was repeatedly tested in April. The line was again broken this week, as the Swiss franc lost ground.
Next, there is support at the psychologically significant round number of 0.90. This is followed by the support level of 0.8924, which has not seen any activity since late February. Below, is the line of 0.8850, which has acted in a strong support role since last November. Next is the support level of 0.8768, which USD/CHF last tested in November 2011.
This is followed by 0.8710, which has served as a strong support level since October of last year. The final line for now is 0.8621, which has provided support dating back to September 2011.
I  am bullish  on USD/CHF.
After trading in choppy waters throughout April, the trend in May has been upwards. Although recent  US releases have been mixed,  investors are not pleased with  what is happening throughout Europe.  Last week's weak  Euro-zone unemployment figures sent the Euro tumbling, and the  Swiss  franc  is also paying  the  price, as the dollar benefits from the crisis (or crises)  on  the continent.  
Further reading: