USD/JPY  floated around the 102 magnet yet again. When will the pair pick a direction?. Trade balance is the main event of the upcoming week.  Here is an outlook on the major events moving the yen and an updated technical analysis for USD/JPY.
The Japanese economy squeezed by 1.7% in Q2, as expected. The sliver lining of price rises could be seen as positive, but it may be a one off. Can the economy bounce back in Q3? Other figures released this week weren't that exciting: tertiary industry activity fell by 0.1%, consumer confidence slipped and industrial production was revised to the downside. Also US data was not too great, with a stall in the JOLTS figure.
[do action="autoupdate" tag="USDJPYUpdate"/]
USD/JPY graph with support and resistance lines on it. Click to enlarge: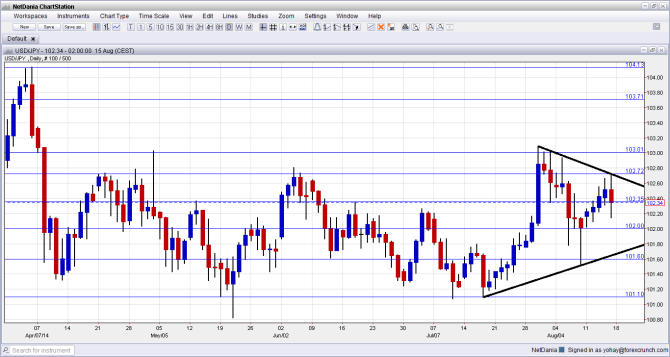 Trade Balance: Tuesday, 23:50. Japan suffers a deficit in its trade balance as a result of the March 2011 catastrophe: the country imports energy to compensate for the lack of power  production by nuclear reactors.  After recording a deficit of 1.08 trillion yen in June, a somewhat smaller deficit is likely for July: 0.77 trillion yen.
All Industries Activity: Wednesday, 4:30. This figure measures the purchases of goods and services by businesses. In May, a rise of 0.6% came after the big tax-hike-related  plunge of 4.6% in April. The month of June is expected to see another recovery.
Flash Manufacturing PMI: Thursday, 1:35. Markit's purchasing managers' index for the manufacturing sector returned to growth in June after the tax hike effect faded. Also in June, the index stood above 50 points separating contraction from growth. From 50.5 points, a small rise is expected to continue ticking higher.
* All times are GMT
USD/JPY Technical Analysis
Dollar/yen started the week with a climb back above 102, where it became comfortable under the minor line of 102.30. All in all, this  range trading resulted in a close that was slightly higher.
Live chart of USD/JPY:
[do action="tradingviews" pair="USDJPY" interval="60″/]
Technical lines from top to bottom
104.80 capped the pair during January and with current ranges, looks distant. 104.10, the high of April 2014 is currently a minor line, but should be watched.
Below, 103.77 provided support for the pair in January and served as a clear separator of ranges. The round number of 103 has shown its strength in late July 2013.
102.70  was a stubborn peak during February and now switches to support. In the narrower  range, 102.30 is weak resistance.
102.00  is a round number that supported the pair several times and remains and important line that the pair seemed to like very much – the "magnet". 101.60 is weak support in the narrower range.
101.10  provided strong support for the pair during May  2014 and is the low line of support. 100.75 prevented the pair from falling lower during February and is the last backstop before the round number of 100.
100 is not just a round number but also worked as resistance several times in the past.
I remain  neutral  on  USD/JPY
All in all, the direction of the pair remains to the upside. However, the not-too-terrible GDP figure supports the yen and  cuts  Kuroda and his colleagues at the BOJ some slack. The 102 magnet could remain in focus for yet another week in August before any substantial move begins emerging.
More: listen to our latest podcast, dedicating a significant part to Japan:
Further reading: