USD/JPY was unchanged over the week, closing at 122.66.  There are 8 events this week. Here is an outlook on the major events moving the yen and an updated technical analysis for USD/JPY.
There was plenty of US job numbers for the markets to chew on last week. Nonfarm Payrolls showed a gain 223K jobs in June, slightly below expectations.  The unemployment rate  dropped more than expected,  but wages disappointed. Retail Sales and the Tankan Indices posted strong numbers, but this wasn't enough to propel the yen higher against the US dollar.
[do action="autoupdate" tag="USDJPYUpdate"/]
USD/JPY graph with support and resistance lines on it: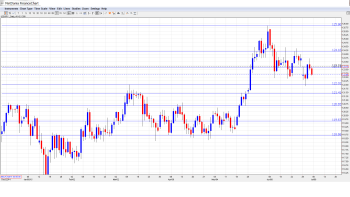 Leading Indicators: Monday, 5:00.   This event is based on 11 economic indicators, but is of minor significance since most of the data has already been released. The indicator moved higher in April, coming in at 107.2 %, which was within expectations. The estimate for the May report stands at 106.2%.
Current Account:  Tuesday, 23:50.  Current Account is closely linked to currency demand, as foreigners need to buy Japanese yen in order to purchase Japanese exports and services. In April, the current account surplus dipped to 1.27 trillion yen, short of the forecast of 1.45 trillion. The markets are expecting an upswing in the May report, with an estimate of 1.38 trillion yen.
Economy Watchers Sentiment: Wednesday, 5:00. This indicator helps analysts track consumer spending, which is a key component of economic growth. The indicator has been above the 50-mark for most of 2015, which indicates ongoing optimism. In May, the indicator registered 53.3 points, shy of the forecast of 54.2 points. Little change is expected in the June report.
Core Machinery Orders: Wednesday, 23:50. This important manufacturing indicator tends to show significant fluctuation, leading to readings that are often well off the estimates. The April reading shot up by +3.8%, crushing the forecast of -2.0%. The markets are braced for a  sharp downturn  in the May release, with an estimate of -4.6%.
30-year Bond Auction: Thursday, 3:45. The indicator showed little movement in the  June auction, with a  yield of 1.53%. No major change is expected in the upcoming release.
Preliminary Machine Tool Orders: Thursday, 6:00. This indicator posted a gain of 15.0% in the May reading, marking a 3-month high. The markets are expecting another strong gain in the June report.
PPI: Thursday, 23:50. PPI measures inflation in the corporate sector. The index has been struggling, having posted two straight declines of 2.1%, both within expectations. More of the same is expected in the June release, with an estimate of -2.2%.
Consumer Confidence: Friday, 5:00. Consumer Confidence  is closely watched, as it is a leading indicator of consumer spending.  The indicator continues to point to a pessimistic Japanese consumer, as the indicator  was almost unchanged in May, at 41.4 points. This was short of  the forecast of 41.9 points. The estimate for the June report stands at 41.9 points.
* All times are GMT
USD/JPY Technical Analysis
USD/JPY  opened the week at 122.59. The pair touched a low of 121.92,  testing support  at 1.2202 (discussed last week). USD/JPY then reversed directions, climbing to a high of 1.2372.  The pair closed the week at 122.66.
Live chart of USD/JPY: [do action="tradingviews" pair="USDJPY" interval="60″/]
Technical lines from top to bottom:
We begin  with resistance at  1.2774.
1.2659 has remained intact since May 2002.
1.2589  continues to be a strong resistance line.
124.16 is the next resistance line.
123.11 continues to be busy and was tested as the pair posted gains before retracting.
122.02 remains  a weak line and could see action early in the week.
121.39 is the  next support level.
120.65 is  protecting the  symbolic 120 level.
119.65 was  a key  support line  in April.
118.68 is the final support line for now.
I am bullish on USD/JPY
US data has been mixed, but the  Fed seems to be on track for a hike in September, which is bullish for the dollar. In Japan, inflation remains at low levels and the economy continues to struggle despite the BOJ's radical easing program.
In our latest podcast we feature a Greferendum preview, NFP review and more
Follow us on Sticher.
Further reading: