USD/JPY  ended the week unchanged for a second straight week.   The pair closed at  113.83.  This week's key event is the BoJ Monetary Policy Statement. Here is an outlook on the major events moving the yen and an updated technical analysis for USD/JPY.
The yen shrugged off weak Japanese numbers, as Final GDP slipped 0.3% and BSI Manufacturing Index dropped 7.9 points. In the US, jobless claims dropped to 259 thousand, below expectations.
do action="autoupdate" tag="USDJPYUpdate"/]
USD/JPY graph with support and resistance lines on it: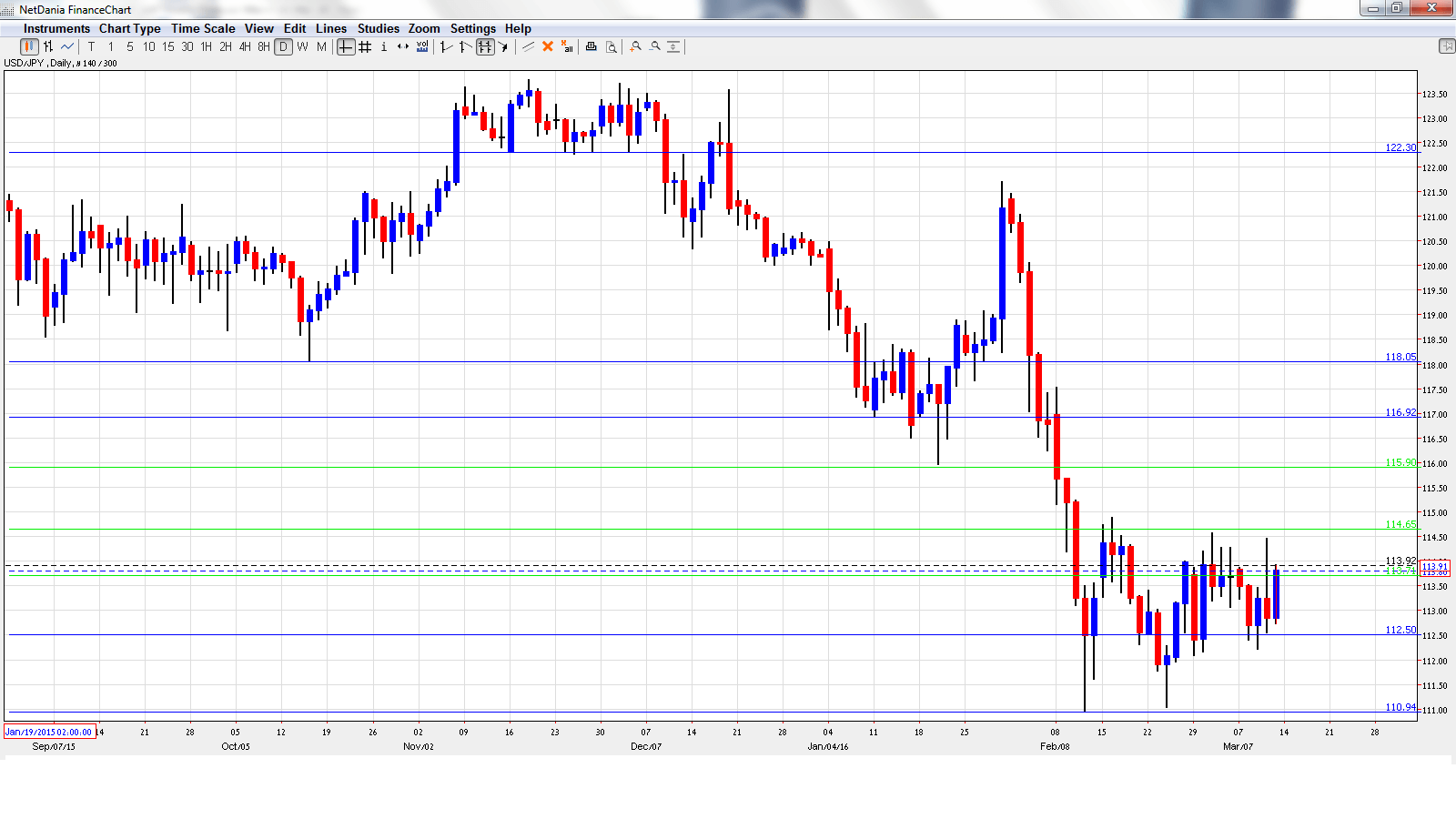 Core Machinery Orders: Sunday, 23:50.  This manufacturing indicator bounced back in December, posting a gain of 4.2%. However, this fell short of the estimate of 4.6%. The markets are expecting a softer gain in January, with an estimate of 2.0%.
BoJ Monetary Policy Statement: Tuesday, Tentative. This is the key event of the week. With the Japanese economy grapping with weak growth and inflation, the BoJ is under strong pressure to adopt further easing measures. If the BoJ does make any major moves, the yen could weaken. The statement will be followed by a press conference.
Revised Industrial Production: Tuesday, 4:30. The indicator has posted two straight declines, posting to weakness in the manufacturing sector. However, the markets are expecting a strong turnaround, with an estimate of 3.7% for January.
Trade Balance: Wednesday, 23:50. Japan's trade balance continues to improve, and posted a gain of JPY 0.12 trillion in January, above the estimate of JPY 0.06 trillion. The markets are expecting the upswing to continue, with a forecast of JPY 0.24 trillion.
BoJ Monetary Policy Meeting Minutes: Thursday, 23:50. The BoJ will release the minutes of its policy meeting from earlier in  the week.  Analysts will be combing through the minutes,  looking for clues about possible future monetary moves that the BoJ  could take.
* All times are GMT
Live chart of USD/JPY: [do action="tradingviews" pair="USDJPY" interval="60″/]
USD/JPY Technical Analysis
USD/JPY opened the week at 113.82  and dropped to a low of 112 .21. The pair then reversed directions and climbed to a high of 114.44, as resistance held firm at 114.65  (discussed last week). USD/JPY closed the week at 113.83.
Technical lines from top to bottom:
118.05 was a cushion in October 2015.
116.90 supported dollar/yen early in 2015.
115.90 was an important cushion in the second half of 2015.
114.65 held firm for a second straight week, as the yen posted sharp gains before retracting.
113.71 was an important resistance line in July 2005.
112.48 marked the start of a yen rally in January 2008, which saw USD/JPY drop below the 100 level.
110.94 has been a cushion since early February.
109.81 is the final support line for now.
I am  bullish on USD/JPY
Japanese fundamentals remain sluggish, as underscored by a contraction in Japanese GDP. The yen has held its own recently against the US dollar, but that could change if the BoJ adopts further easing measures at this week's policy meeting. Although the Fed is unlikely to hike rates next week, the bias favors tightening, so monetary divergence could weigh on the Japanese currency.
Our latest podcast is titled  Digesting Draghi & Fired for the Fed
Follow us on Sticher or on iTunes
Further reading: