Governor Masaaki Shirakawa speech, Core Machinery Orders and Final GDP are the highlight of this week. Here is an outlook on the important events ahead and an updated technical analysis for USD/JPY.
Bank of Japan board member Tadao Noda announced last week that Japan's economy is beginning to emerge from a slowdown along with the recovery overseas. However in case deflation will continue the BOJ is willing to take further easing measures in order to speed the market recovery progress. Will these measures prove effective? Time will tell.
USD/JPY daily chart with support and resistance lines marked. Click to enlarge: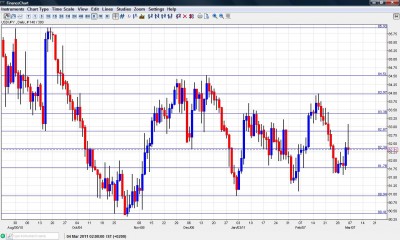 Let's start:
Leading Indicators: Monday, 5:00. leading indicators in Japan increased by 0.8 points to 101.4 in December following 100.6 in the prior month. This is the second month of growth indicating a slight improvement in the market.  A further gain to 102.4 is expected.

Bank Lending: Monday, 23:50. Japanese bank lending decreased by 1.8% following a decline of 2.0% in the previous month. This is the 14th straight month of annual declines showing the central bank's ultra-easy monetary policy has yet to boost loan growth amid weak corporate fund demand. The economy is improving at a slow pace which does not encourage business to invest. Poor domestic demand and a huge public debt are the main concern of Japan nowadays.

Economy Watchers Sentiment: Tuesday, 5:00. The Economy Watchers' Survey index dropped to 44.3 in January from 45.1 in December, posting the first fall in three months bad weather conditions and the after pick of the season's holiday are the main reason for this decline. Nevertheless general improvement in consumption is expected increase in the nest few months. The survey outcome is monitored by the Bank of Japan as it appears to reflect retail sector sentiment more accurately than some other data. A rise to 45.7is anticipated now.

Governor Masaaki Shirakawa speaks: Tuesday, 16:00. BOJ Governor Masaaki Shirakawa  is due to deliver a speech titled "150 Years of Innovation: Facing Up to Challenges in Monetary Control" at the Goethe University, in Frankfurt. Global economic recovery and deflation issues may be discussed.

Core Machinery Orders: Tuesday, 23:50. Japan's core machinery orders rose 1.7% in December, the first time in four months after a drop of 3.0% in the previous month. Analysts expected 5% rise. The modest rise indicates that companies will increase spending gradually. A smaller gain of 2.8% is predicted.

Final GDP: Wednesday, 23:50. Japan's economy grew a revised 1.1% July-September from the previous quarter but growth has been slow.  Despite the upward revision, a recent assembly of weak data has Suggests that the fourth quarter of  October-December will contract slightly due to a global slowdown. GDP is expected to drop 0.3%.

Prelim Machine Tool Orders: Thursday, 6:00. Japan tool orders for January surged to 89.4% following 64% in the previous month amounted to 104.35 billion yen. Domestic orders were 31.67 billion yen in value, up 0.5% and 100.8% from the previous month and from the same month a year ago respectively. Foreign orders were 72.68 billion yen in value, up 8.1% and 84.8% from the previous month and from the same month a year ago respectively.
*All times are GMT
USD/JPY Technical Analysis:
Dollar/yen started the week trading around the 81.80 line mentioned last week. Towards the end of the week, the pair rose and even made a very temporary break above 82.87, but eventually closed at 82.31, a weekly gain.
Looking down, immediate support is found at 81.80, which was a bottom at the beginning of the year, and also worked as resistance in October. Below this line, we find 80.87 – which provided support back in November and now has the same role.
Lower, 80.40, was the lowest close ever and by 79.75, the lowest intra-day level, reached back in 1995. Not much left down there.
Looking up, very minor resistance  is found at 82.34, which was a swing low a few months ago, and worked as support just now. More significant resistance is at 82.87  – it was the point were the BOJ intervened back in September 2010.
Above, 83.40 provides more resistance, though weaker than in previous weeks. Dollar/yen failed to reach this area just now. It's followed by 84, which was quite stubborn two weeks ago, is a tough line of resistance.
Further above, the next line above is 84.50 which is the highest level since October and is a very tough resistance line. Above, 85.93 was the top that the pair made after the BOJ intervention in September.
I am bullish on USD/JPY.
The improvement in the US economy, as seen by the falling unemployment rate and in the hints to stop buying bonds after June, outweigh the safe haven flows that the yen enjoys during the Libyan crisis.
Further reading: