Many events occur in the Japanese scene this week such as Retail Sales, Masaaki Shirakawa's speech, Household Spending and other important activities. Here's an outlook for the Japanese events and an updated technical analysis for USD/JPY.
USD/JPY daily chart with support and resistance lines marked. Click to enlarge: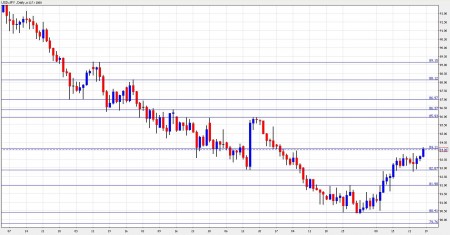 Last week Japanese Finance Minister Yoshihiko Noda gave a vote of confidence to the Bank of Japan's recent monetary easing program by declaring it was part of a joint effort with the government to defeat Japan's persistent deflation. The BOJ's promise to keep rates near zero until price stability is ensured demonstrates that the government and the BOJ share the same views concerning the means of achieving recovery. Will this joint conduct prove effective for the Japanese economy?
Let's start:
Retail Sales: Sunday, 23:50. Japan's retail sales rose less than expected gaining 1.2% in September stressing the fact the Japan is dependant on overseas economies for growth and is not doing well due to slowing demand abroad.  The yen has appreciated more than 10 percent against the dollar this year, threatening to diminish corporate profits and reduce the competitiveness of Japanese goods sold abroad. Another 0.8% rise is expected now.
Masaaki Shirakawa Speeks: Monday, 13:00. BOJ Governor Masaaki Shirakawa speaks to business leaders at the Economic Forum, in Nagoya after which he will meet with reporters. He is likely to refer to the deflation issue and explain his view on the actions required to promote a recovery process.
Household Spending: Monday, 23:30. Japanese household spending was  flat in September from a year earlier in price-adjusted real terms, less than the 0.8% rise expected edged down a seasonally 0.4 % in September from a year earlier in price-adjusted real terms. 0.4% rise is expected now.
Prelim Industrial Production: Monday, 23:50. The Japanese Industrial Production plunged 1.9% in September for a forth time in a row, sharply below the 0.6% expected. This further decline in September was mainly due to the transport sector, Japanese manufacturers are faced with weakening global demand abroad, which weakens their exports, and the termination of a subsidy program to purchase environmentally friendly cars discourages  business investment  and consumer spending weakens. A bigger drop of 2.6% is predicted now.
Average Cash Earnings: Tuesday. 13:30. Total cash earnings of employees in Japanese firms rose by 0.9% year-on-year in September the seventh straight month of earnings growth. Although gains in cash earnings indicate higher spending the main problem lies in the weak export demand which badly affects the consumer spending. Another rise of 0.7% is forecasted.
Capital Spending: Wednesday, 23:50. Overall  capital expenditure,  excluding the financial and insurance sectors, came to 8,364.8 billion yen, dropping for the 13th straight quarter though slower than the 11.5 percent drop in the previous period. The decline was mainly due to cautiousness of manufacturers about future demand.  This survey is tightly related to GDP calculations. A nice rise of 6.1% is expected now.
* All times are GMT.
USD/JPY Technical Analysis:
Dollar/Yen fell to the bottom of the 82.87 to 84.11 trading range (mentioned last week) and then gradually climbed, temporarily breaking resistance but finally closing just under it, at 84.11, a weekly gain of almost 60 pips.
Looking down, 82.87 was the line were the BOJ intervened in the markets, and it provides strong support, as we've seen just now. Below, 82 provided strong resistance a few weeks ago and now works as the next line of support.
Lower, 80.40 was the year-to-date low, and also the lowest close ever., It's a strong support line before the ultimate all-time intra-day low of 79.75 recorded in 1995.
Looking up, 84.11 is very close now, and provides strong resistance. It gave temporary support for the pair on its way down.  Higher, 85.93 was a stubborn peak that USD/JPY couldn't break after the big intervention and now serves as another important resistance line.
Higher, the next lines are rather close – 86.35 was a support line in July and later switched to resistance. Right afterwards,  86.88, that worked as support earlier.
More important resistance is found at 88.10, which was a support line in March and later served as resistance. The last resistance line for now is 89.15 which capped the pair quite some time ago.
I remain bullish on USD/JPY.
The European debt crisis should have helped the yen, but the ongoing tensions between North and South Korea take their toll on the yen, which is also suffering from higher US yields.
Further reading:
Want to see what other traders are doing in real accounts? Check out Currensee. It's free..