The Japanese calendar is quite light in the upcoming week, but the ongoing currency wars will definitely supply lots of action. Here's an outlook for the Japanese events and an updated technical analysis for USD/JPY.
USD/JPY graph with support and resistance lines on it. Click to enlarge: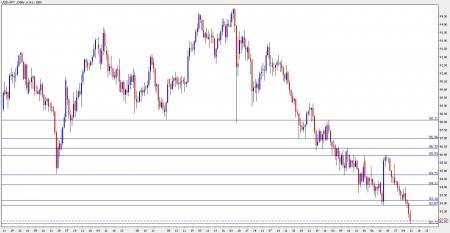 The BOJ's intervention to weaken the yen was totally erased in the past week, with USD/JPY reaching new 15 year lows. Will Japan fight back in the currency war? Let's start:
Household Confidence: Published on Tuesday at 5:00. This wide survey of 5000 homes disappointed last months with a drop to 42.4 points. During the past year, this sentiment indicator has been on the rise, but has done so very slowly. A similar result is expected now – 43.9 points.
Core Machinery Orders: Tuesday, 23:50. This industry-related figure tends to have a strong impact on the yen, despite its strong volatility. After a drop of 9.1% three months ago, it jumped by 8.8% last month. A drop of 3.7% is expected now, but economists have missed out on this figure.
Revised Industrial Production: Friday, 4:30. According to the initial release, industrial output dropped by 0.3%, for the third month in a row. This disappointing figure will probably be confirmed in the final release. Note that last month saw a significant revision – from a rise to a fall.
* All times are GMT.
USD/JPY Technical Analysis
At the beginning of the week, USD/JPY still struggled with 83.16, but after the pair fell below the previous 15 year low of 82.82 (mentioned in last week's outlook), 83.16 turned into fierce resistance. Dollar/Yen continued the fall and went as low as 81.72 before closing at 81.90.
The 82.87 now works as a resistance line, and its followed by 83.16 which played the opposite role beforehand.
Higher, 84.11, that was a support line in the in recent weeks, is the next line of resistance. It's followed by 84.72, which is a minor support line after working as such in February.
Higher,  85.90 line is the peak that USD/JPY reached after the intervention.  86.35 was a support line in July and later switched to resistance. It's closely followed by 86.88, that worked as support earlier. The last line for now is 88.10, which was a support line in March and later worked as resistance.
Looking down, the past week's fresh 15-year low of 81.72 provides immediate support. Below, 80.43 was the lowest point back in the 90s and is the next line of support before the round number of 80.
I am neutral on USD/JPY.
It seems that after lowering the rate to the lowest possible level, the BOJ is holding its fire on another intervention. The current situation in the "currency war" is that the fire is now pointed to China. Dollar/Yen is likely to remain mixed this week.
Further reading:
Want to see what other traders are doing in real accounts? Check out Currensee. It's free..