The Japanese yen couldn't hold on to gains it made against the greenback and eventually retreated, as QE3 backfired. Japan's rate decision and the BOJ Press Conference are the major events this week. Here's an  outlook  for the Japanese events and an updated technical analysis for  USD/JPY.
The details of QE3 didn't include new buys of treasuries, but rather Mortgage Based Securities. This pushed US yields higher and sent traders buying USD/JPY. Japan's Current account surplus narrowed more than expected in June to 0.34T from 0.77T in May but BSI Manufacturing Index climbed above predictions by 2.5% in the second quarter after a drop of 5.7 in the first quarter and Core Machinery Orders  gained 4.6% in June above predictions of a 1.7% rise, all in all, not a bad week for Japan. Will the Japanese economy continue to progress in the next months?
Updates: Tensions are rising between China and Japan over the uninhabited yet strategically important islands. Dollar/yen is under downtrend resistance so far, at 78.60. As expected, the BOJ kept its key interest rate unchanged at <0.10%. However, in a surprise move, the BOJ  did announce fresh easing measures, boosting the size of its monthly bond purchases by 10 trillion yen,  to a total of JPY 80 trillion. The yen is  back below the 79 line, as USD/JPY was trading at 78.88. The monthly Trade Balance deficit widened to its highest level since June. The deficit hit 0.47 trillion yen, well above the estimate of 0.37T. All Industries Activity fell by 0.6%, slightly more than the market forecast of a 0.5% drop.In its monthly report, the BOJ revised downwards its assessment of exports and industrial production due to global economic weakness. These two sectors are vital for economic growth, and any slowdown will adversely affect the weak Japanese economy. The yen rally has taken a breather, as USD/JPY was trading at 78.22.
Trade Balance
USD/JPY  daily chart with support and resistance lines on it. Click to enlarge: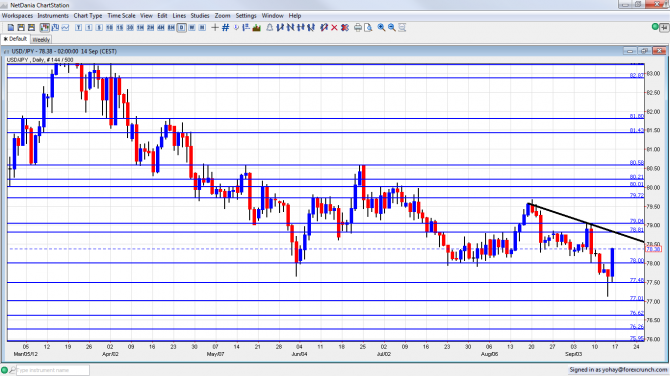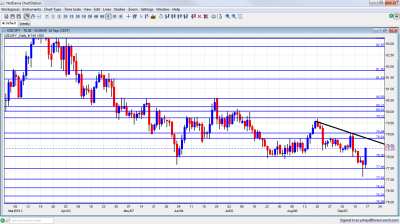 Rate decision: Wednesday. The Bank of Japan decided to maintain interest rates at 0% to 0.1% keeping its loose monetary policy unchanged; in addition the Bank of Japan also restated its commitment to add monetary easing measures as stimulus in case economic conditions deteriorate. No change is forecasted.
Trade Balance: Wednesday, 23:50. The seasonally adjusted trade balance deficit increased to Y325.7 billion July after reaching Y317.6 billion in June. Analysts expected a higher deficit of Y460 billion. Exports declined 1.1% while imports dropped 0.9%. The weak figures exemplify the slowdown in the global economy. Trade balance deficit  is forecasted to reach Y370 billion.
All Industries Activity: Thursday, 4:30.Japan's all industry activity increased by 0.2% in June rebounding from the 0.2% drop in May. The reading was a bit lower than the0.3% gain anticipated by analysts. Industrial production gained 0.4% and tertiary industry activity rise 0.1%. On a yearly basis, all industry activity declined to 0.5% in June from 3.3% in the previous month. Japan's all industry activity is predicted to drop 0.5%.
Masaaki Shirakawa speaks: Thursday, 4:30. BOJ Governor Masaaki Shirakawa is expected to speak in Tokyo. His speech may reveal the reason behind this week rate decision and monetary policy.
BOJ Monthly Report: Thursday, 5:00. The Bank of Japan monthly report in August warned about a slowdown trend in industrial production and exports despite moderate growth forecasts in domestic demand and slid exports. The surveys reveal companies remain pessimistic concerning overseas demand badly reflecting on future production and exports.
USD/JPY  Technical Analysis
$/yen started the week trading above the 78 line (discussed last week). It then fell deeper but bounced off 77 and eventually closed the week higher, at 78.38.
Technical lines from top to bottom
82.87 is a veteran line – that's where the BOJ intervened for the first time back in 2010. 81.80 capped the pair in April.
81.43 is stronger after serving as resistance for a recovery attempt. 80.60 provided support for the pair around the same time, and served as a bouncing spot for the next moves. It proved its strength as resistance in June 2012, more than once.
80.20 separated ranges in May 2012 and remains another barrier after 80 on the upside.  The round number of 80 is psychologically important, even though it was crossed several times in recent months. It is stronger now.
79.70 was a cap was seen in June 2012. It proved its strength as resistance once again in July 2012 and proved critical before the downfall in August 2012. 79.05 capped the pair in September 2012 and similar levels were seen in the past.
78.80 proved its strength as resistance in August 2012 again and again and is becoming stronger once again. The round number of 78 is now stronger support after being the bottom of the range.
77.50 was the bottom border of a range the pair had at the end of 2011. It is followed by 77, which is only minor support.
76.60 was a cushion for the pair at the beginning of the year and is rather strong. 76.26 is the next line on the downside after working as a support quite some time ago.
Downtrend Resistance
As you  can  see on the chart, the pair is trading under a downtrend resistance line formed from mid August.
I turn from neutral to bullish on  USD/JPY.
QE3 eventually hit the yen, because of the details. USD/JPY is influenced by US indicators and by US yields. So if US yields aren't falling, it becomes attractive to invest in the US. In addition, the fear of intervention also gave a boost to the pair, that reached levels seen as too low by the BOJ. Additional QE by the Bank of Japan could further weaken the yen and help the dollar.
Further reading: