When it comes to forex trading there is a wealth of information online on how to make money trading currencies. However, not many of the proclaimed strategies actually work in real life. Below I have collated three forex trading strategies that professional forex traders use to generate profit.
Trading Just After Strong Market Moving Data Announcements
A great way to profit in the currency markets is to trade when there are better than expected or worse than expected economic data announcements. For example, if U.S. unemployment numbers come in much higher than expected, the Fed will less likely raise interest rates any time soon. This in turn will weaken the U.S. dollar against the euro, for example. And this move will be quite sharply immediately after the announcement. So, if you jump onto that 'mini trend' quickly and sell the U.S. dollar against the euro, then you can make relatively easy money trading. Keep your stop-losses in place, but not too tight, as there is always inevitable volatility after economic date announcements.
The drawback of this strategy is that you can only execute it on days of economic data announcements and there needs to be a surprise in the figures. However, on a day where that does happen, it can be very profitable. So, keep this strategy in mind.
Using Big Round Numbers To Set Stops And Target Prices
When you are logged into your online forex trading platform make sure you set up alerts for the major currency pairs when their prices move close to so-called 'big round numbers'. Big round numbers refer to figures such as 1.50 in the GBPUSD or 1.00 in the EURUSD, for example, and are known to be physiological trading levels that can therefore be used to set target prices or stop-loss levels. In fact, academic studies have shown that big round numbers have an effect in major currency pairs, so they can actually be used as a stand-alone trading tool.
Using A Combination Of Technical Indicators
When it comes to forex trading using chart analysis tools, such as technical indicators, it is absolutely vital not to solely stick to one indicator to make your trading decisions. Trading currency pairs using only one technical indicator will not make you any profit. Various academic studies have proven that. Instead, the key to successfully trading currencies, using chart analysis, is to use several indicators in combination with one another.
For example, a good technical indicators based trading strategy would be to look at the MACD (Moving Average Convergence Divergence), the RSI (Relative Strength Index), Bollinger Bands and ROC (Rate of Change). Combining these four indicators you can gauge price movements based on trend, momentum, volatility and volume. The way to turn these four indicators into a trading strategy is to trade when 4 out of the 4 indicators say buy (or sell), then you buy (or sell). This would be a strong trading signal. If 3 out of the 4 indicators give you a trading signal, you could also trade, but it would be a less of a strong trading signal. If 2 or less of the indicators indicate you should execute a trade, you leave it, as the trading signal is not strong enough. The EURUSD chart below provides a visual presentation of this strategy and the technical indicators involved.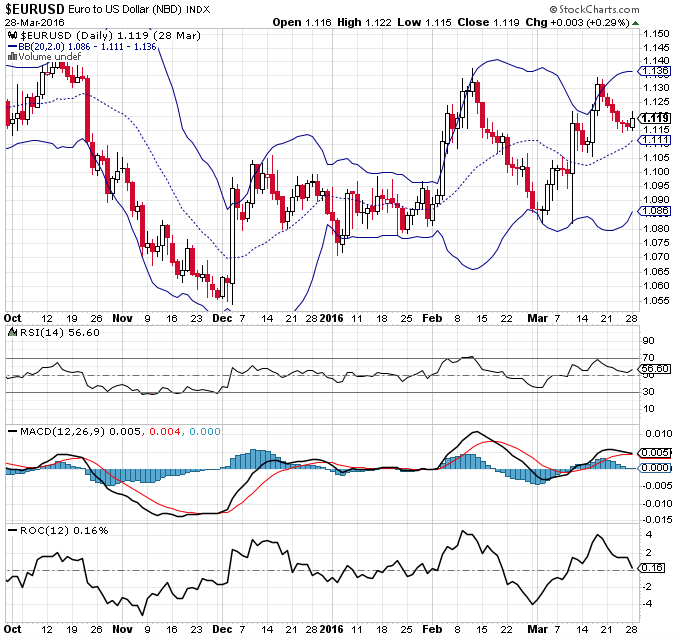 Trading only strong trading signals, of the right combination of technical indicators, is a great strategy that can be used to generate regular currency trading profits. The key is to stick to liquid currency pairs and not to risk too much capital. Also, always work with stop-losses, in case unforeseen market movements happen, due to central bank interventions or geo-political events.
To trade forex profitably it's important to find the right mix of trading strategies that you can use to make money. You will inevitably develop your own style of trading and you will find that some strategies work better for you than others. Hence, it's good to try out different approaches to forex trading, to find the ones that are optimal for you.
This article was brought to you by iForex