The Australian dollar  extended its relentless rise, reaching the highest levels since October 2017. Can it move even higher? The big event of the upcoming week is the retail sales report. Here are the highlights of the week and an updated technical analysis for AUD/USD.
China's Caixin manufacturing PMI advanced to 51.5 points, implying better growth in Australia's No. 1 trading partner. This joined positive figures from Australia and the weakness of the US dollar. The greenback ignored upbeat US figures as well as a balanced meeting minutes report from the Fed.
[do action="autoupdate" tag="AUDUSDUpdate"/]
AUD/USD daily graph with support and resistance lines on it. Click to enlarge: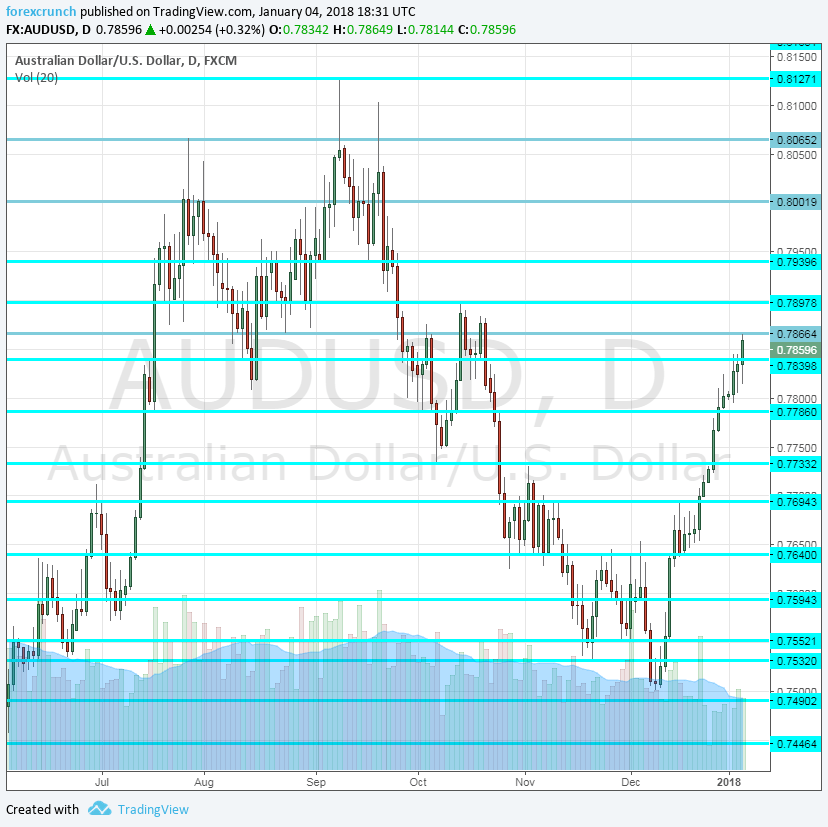 AIG Construction Index: Sunday, 22:30. The construction sector is doing well according to the  Australian Industry Group. A score of 57.5 points on the PMI-like indicator in November reflects upbeat growth. We could see a setback now.
Building Approvals: Tuesday, 00:30. The number of building approvals has increased in the past three months, rising by 0.9% October, beating expectations. This important gauge of the housing sector could dip now. A slide of 0.9% is forecast.
ANZ Job Advertisements: Tuesday, 00:30. The  Australia and New Zealand Banking Group provides this interesting indicator for the labor market. In November, a gain of 1.5% in advertised jobs was seen.
Retail Sales: Thursday, 00:30. Australia is trying to move away from its reliance on the mining sector. An increase in consumption is key. A rise of 0.5% was seen in October, beating expectations and aiding the Aussie. Will we see another climb for November? A rise of 0.4% is projected.
Chinese trade balance:   Friday, 3:00. China is Australia's No. 1 trading partner and its trade affects the land down under. A surplus of 40.2 billion was seen in November. We will now see the data for December and thus the full figures for 2017. A trade balance surplus of 37.4 billion USD is on the cards.
AUD/USD Technical Analysis
Aussie/USD extended its gains and paused at 0.7860 mentioned last week.
Technical lines from top to bottom:
0.8130 was the 2017 high and remains a top line. It is followed by 0.8065, which capped the pair's rise beforehand.
The psychological round level of 0.80. Below, we find 0.7940, which capped the pair in August.
0.7860 served as support during September and is another line to watch. 0.7785 was a stepping stone on the way up.
Below, we find 0.7730, that was a high point in June 2017 and also beforehand, working as resistance in November. The round number of 0.77 capped the pair in mid-December. 0.7640 worked as resistance in November.
0.7595 was a swing high in early December and capped the pair. 07550 provided support in late November.
I am neutral on AUD/USD
The weakness of the US dollar is surprising given the data, and the Aussie is certainly taking advantage of this. We could see things stabilize at this point.
Follow us on Sticher or iTunes
Further reading:
Safe trading!