The Australian dollar showed some movement in both directions but was almost unchanged over the week, as AUD/USD closed at 1.0399. Highlights of the upcoming week include Building  Approvals and Private Capital Expenditure.  Here is an outlook of the Australian events, and an updated technical analysis for AUD/USD.
The pair continues to trade in a narrow range following mixed economic releases in both the US and Australia, as  the pair  showed some fluctuation but was unable to sustain any breakout.
Updates: HIA New Home Sales was a major disappointment, plunging 5.6%. This was the poorest performance since April. AUD/USD is choppy, trading at 1.0373. Construction Work Done dropped sharply in Q2, posting a decline of 0.2%. The market estimate stood at 0.6%. AUD/USD is steady, as the pair was trading at 1.0362. The volatile Building Approvals slumped 17.3%, its worst performance in over three years. Private Capital Expenditure dropped to 3.4%, but still exceeded the market estimate of 2.7%. AUD/USD continues to trade in a narrow range, as the pair was trading at 1.0330.
AUD/USD graph with support and resistance lines on it. Click to enlarge: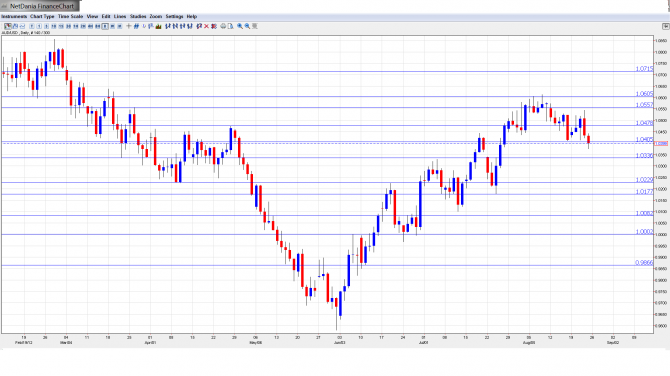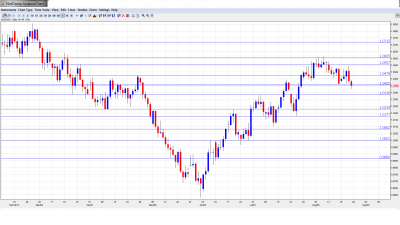 HIA New Home Sales: Tuesday, Tentative. This housing indicator is quite volatile, making accurate market forecasts a tricky task. The indicator gained a strong 2.8% in the July reading, and the market will be hoping for another healthy release in August.

Construction Work Done: Wednesday, 1:30. This  construction  indicator jumped 5.5% in Q1, but the estimate for Q2  stands at a modest 1.1%. Will the indicator meet or beat the  market estimate?

Building Approvals: Thursday, 1:30. This indicator is also marked by sharp fluctuations. The markets are predicting a second straight decline in the indicator, which would be bearish for the aussie.

Private Capital Expenditure: Thursday, 1:30. This quarterly indicator focuses on capital expenditures by private businesses. The market estimate for the August release stands at a respectable 3.1%.

Private Sector Credit: Friday, 1:30. This composite index bounced back nicely in July, gaining 0.4%. The markets will be hoping for another gain in the August reading.

Chinese Manufacturing PMI: Saturday, 1:00. Traders should pay close attention to this PMI, as China is Australia's number one trading partner. Manufacturing PMI has been above the 50.0 line throughout 2012, but the market prediction for August is a drop to 49.8 points.
* All times are GMT
AUD/USD Technical Analysis
AUD/USD opened at 1.0434, and touched a high of 1.0545. The pair then dropped below the 1.04 line, falling to a low of 1.0375. The pair  closed the week at 1.0399, just below the support line of 1.0402 (discussed last week).
We  start with resistance at 1.1012.  This line has held firm since last August. The next resistance line is at 1.0874. This is followed by resistance at 1.0718, which last saw action in March. Below, there is resistance at 1.0605, just above the round figure of 1.06. This is followed by resistance at 1.0557, which has been tested recently. Next is the line of 1.0482, which  was breached briefly  as the pair pushed upwards. The line of 1.0402 is providing resistance, just above the line where the pair closed the week.
AUD/USD is receiving support at 1.0340. This line was last breached in late July, when the pair surged upwards. We next encounter strong support at 1.0230.
The next line of support is 1.0174, which has held firm since late July.  This is followed by support at 1.0080, protecting the psychologically important parity level. The parity line, last tested in June, is the next level of support. Below is the line of 0.9917. The  final line for now is 0.9860, which has provided support since mid-June.
I am  neutral on AUD/USD.
After  impressive gains this  summer, the aussie has been in a holding pattern for the past  few weeks. Given the turmoil in Europe and mixed data out of the US and Australia, the choppiness could continue. However, if the US economy produces more weak data and there is further talk of QE intervention, look for the  Australian dollar  to make some gains.
The Aussie sometimes moves in tandem with gold. You can trade binary options on gold using this technical analysis.
Further reading: