AUD/USD  posted strong gains last week, gaining 100 points. The pair closed the week at 0.7439.  This week's key events are Private Capital Expenditures and Retail Sales.  Here is an outlook on the major market-movers and an updated technical analysis for AUD/USD.
There were no surprises from the RBA, which held rates at 1.50%. The economy slowed in Q1, but still beat the estimate. Over in the US, investors are increasingly frustrated with  Trump's failure to pass any health-care or tax reform, and the "dovish hike" is unlikely to excite the markets.
[do action="autoupdate" tag="AUDUSDUpdate"/]
AUD/USD daily graph with support and resistance lines on it. Click to enlarge: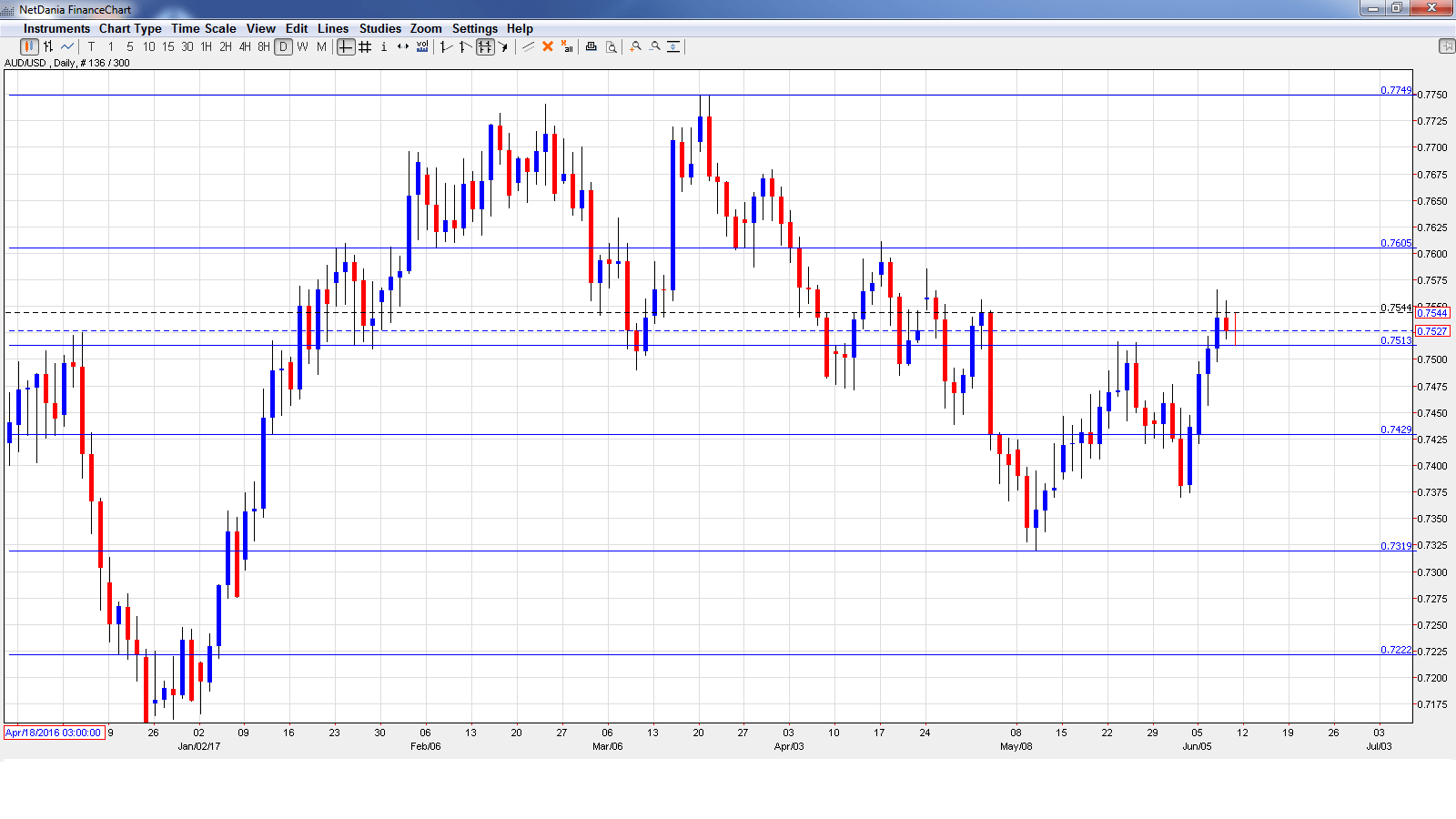 RBA Assistant Governor Guy Debelle Speech: Monday, 4:30. Debelle will speak at an event in Hong Kong. A speech that is more hawkish than expected is bullish for the Australian dollar.
NAB Business Confidence: Monday, 21:30.  The indicator improved to 13 points in April, a sharp increase from the reading of 6 points in March. Will the upswing continue in May?
Westpac Consumer Sentiment: Tuesday, 20:30.  Consumer confidence is carefully monitored since it is closely linked to consumer confidence, a key driver of economic growth. The indicator is struggling, having posted two straight declines. Will we see a gain in the June release?
Chinese Industrial Production:  Tuesday, 22:00.  Key Chinese indicators can have strong impact on the movement of AUD/USD. The indicator slipped to 6.5% in April, well below the forecast of 7.0%. The downward swing is expected to continue, with a forecast of 6.4%.
MI Inflation Expectations:  Wednesday, 21:00. Inflation expectations often translate into actual inflation data, making this a useful indicator. The indicator has been steady, and gained 4.0% in the May report.
Employment Change:  Wednesday, 21:30. Employment Change is one of the key indicators and should be treated as a market-mover. In April, Canada added 37.4 thousand, crushing the estimate of 4.5 thousand. The estimate for the May reports stands at 10.3 thousand.
RBA Assistant Governor Guy Debelle Speech:  Thursday, 3:40.  Debelle will deliver remarks at an event in Sydney. The markets will be looking for clues as to future monetary policy.
AUD/USD Technical Analysis
AUD/USD  opened the week at 0.7428 and quickly dropped to a low of 0.7421. The pair then reversed directions and climbed to a high of 0.7566, as resistance held firm at 0.7605 (discussed last week). The pair closed the week at 0.7527.
Technical lines from top to bottom
We start with resistance at 0.7938.
0.7835 was the high point in April 2016.
0.7749 was a cap in March.
0.7605 is next.
0.7513 has switched to a support role following strong gains by AUD/USD last week.
0.7429 is the next support line.
0.7319 was the low point in May.
0.7223 has held since January.
0.7105 is the final support line for now.
I am bullish on AUD/USD
In the US, dark clouds are hanging over Donald Trump after potentially damaging testimony from former FBI director James Comey. The  markets have priced in a quarter-point increase by the Fed, so any rise in the greenback due to the hike is likely to be temporary. The Australian economy continues to improve, buoyed by stronger global demand.