AUD/USD was up sharply, as the pair  climbed almost two full cents, closing  at 1.0381. The upcoming week has eight releases. Here is an outlook of the Australian events, and an updated technical analysis for AUD/USD.
The aussie capitalized on weak US employment and industrial production data last week. As well, Australian Home Sales were much higher than forecast. The dramatic QE3  announcement by the Fed also bolstered the Australian dollar at the expense of the greenback.
Updates: AUD/USD was unable to settle above downtrend resistance  and suffered from dovish meeting minutes. There is a growing notion that the RBA will cut rates in October. The pair is trading around 1.0430. MI Leading Index dropped  to 0.4%, down slightly from 0.5% the previous reading. RBA Assistant Governor Christopher Kent spoke at a conference in Canberra. The aussie is steading, as  AUD/USD was  trading at 1.0443. In its Annual Report, the  RBA  lowered its  growth forecast for 2012 to 3.0% from 3.5%,. The Bank stated that the revised forecast was a result of the likely slowdown in growth  in China, India and the Euro-zone, which would impact on Australia's export sector. The aussie continues to test  1.04, as  AUD/USD was trading at 1.0406.
AUD/USD graph with support and resistance lines on it. Click to enlarge: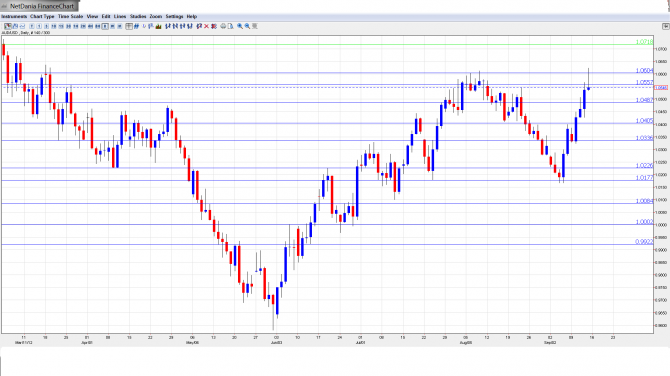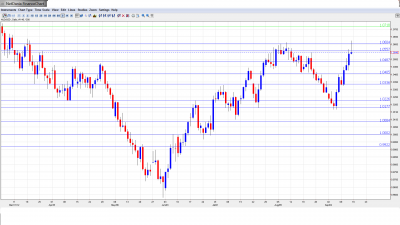 New Motor Vehicle Sales: Monday, 1:30. This consumer indicator has now declined over two consecutive readings. Will the indicator rebound and show a gain in September?

RBA Monetary Policy Meeting Minutes: Tuesday, 1:30. This important report details the most recent RBA meeting, and analysts will be combing through it, looking for hints as to future  interest policy.  However, the estimate for the September reading is a negligible 0.1% gain.

RBA Assistant Governor Guy Debelle Speaks: Tuesday, 2:30. The Assistant Governor is due to speak about monetary  policy at  a meeting in Adelaide.

RBA Annual Report: Tentative. The report provides a summary of the Bank's operations in 2011, including currency operations.  A  report which is more hawkish than forecast is bullish for the aussie.

MI Leading Index: Wednesday, 00:30. This composite index dropped last month, posting a gain of 0.5%. The markets will be hoping for a stronger reading in the September release.

RBA Assistant Governor Christopher Kent Speaks: Wednesday, 00:50. The Assistant Governor will be speaking at a conference sponsored by the RBA and IMF in Canberra. Analysts will be looking for hints as to the Bank's future monetary policy.

Chinese Flash Manufacturing PMI: Thursday, 2:30. This key PMI  has been been unable to crack  the 50.0 points line throughout 2012, indicating ongoing contraction in this sector. The September reading  could  affect the movement of AUD/USD, since China is Australia's number one trading partner.

CB Leading Index: Friday, 00:00. The composite index fell in August, increasing by a  modest gain of 0.2%. Will the indicator  post a stronger gain in September?
* All times are GMT
AUD/USD Technical Analysis
AUD/USD opened at 1.0361, and briefly  touched a  low  of 1.0323. The pair then rebounded sharply, climbing as high as 1.0624. The pair closed the week at 1.0546, as the resistance line of 1.0557 (discussed last week) held firm.
With the impressive surge by the aussie, we start our analysis at higher levels. There is resistance at 1.1080. This is followed by 1.0977, which was last  tested in August 2011. Next is  resistance at 1.0874. Below, there is resistance at 1.0718, which last saw action in March.
We next encounter resistance at 1.0605, just above the round figure of 1.06. This line was briefly  breached last week as AUD/USD surged higher.  This is followed by weak resistance at 1.0557. This line  looks to  be tested on any rebound by the US dollar.
AUD/USD is receiving support at 1.0482. Below is 1.0402, protecting the 1.04 level. Next, there is support at 1.0340. This line has  strengthened as  the pair trades at higher levels. The next line of support is at 1.0230. Below, there is support at 1.0174, which has held firm since late July.
This is followed by support at 1.0080, protecting the psychologically important parity level. The parity line, last tested in June, is the next level of support. The final support level for now is at 0.9917.
I am neutral on AUD/USD.
The Australian dollar had a stellar week, as the rally continues at full steam. Since May, the aussie has gained a spectacular 10 cents. How much further can it go? The aussie took fall advantage of the Fed's decision to implement QE3. However, if the US economy continues to under-perform or Chinese growth slows, the aussie could suffer as investor seek the safety of the greenback.
The Aussie sometimes moves in tandem with gold. You can trade binary options on gold using this technical analysis.
Further reading: