AUD/USD  had a late-week surge, as the pair climbed over one cent, closing at 1.0381. The  upcoming  week has eight releases. Here is an outlook of the Australian events, and an updated technical analysis for AUD/USD.
Despite weak  Australian  releases, the aussie  managed to improve against the greenback, capitalizing  on the ECB bond-buying program and weak US employment numbers.
Updates:   Chinese Trade Balance looked very sharp, with a surplus of 26.7 billion. The market estimate stood at 18.9B. NAB Business Confidence took a dive, dropping to -2 points. The poor reading indicates continued skepticism about the health of the Australian economy. The aussie is pushing up, and is testing the 1.04 line. AUD/USD was trading at 1.0394. Westpac Consumer Sentiment rebounded strongly from last a previous weak reading, gaining 1.6%. Housing Starts were up 4.6%, well above the market forecast of 2.7%.  The aussie continues to push higher, as AUD/USD was trading at 1.0489. MI Inflation Expectations dropped to 2.4%. This is very close to the low of 2012, which was 2.3% in June. In  the quarterly  RBA Bulletin, the central bank  noted that business investment is an important catalyst of economic growth, and  China is expected to increase its purchase of Australian steel to meet its growing needs.  The aussie has edged upwards, as AUD/USD was trading at 1.0435.  It finally happened:  the Fed announced QE3  – open ended, $40 billion per month, in addition to more twist and a longer pledge for low rates through 2015. This helped the Aussie recover, but it is still left out of the party.
AUD/USD graph with support and resistance lines on it. Click to enlarge: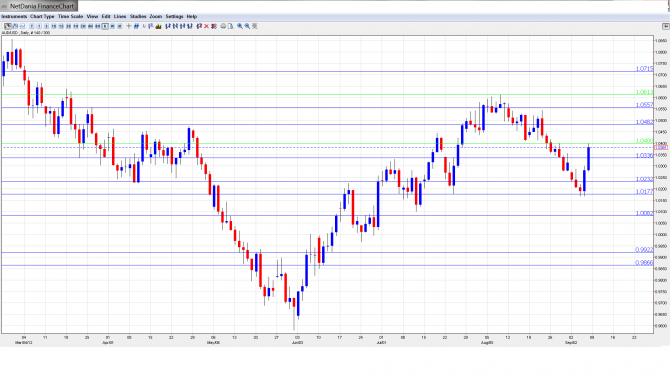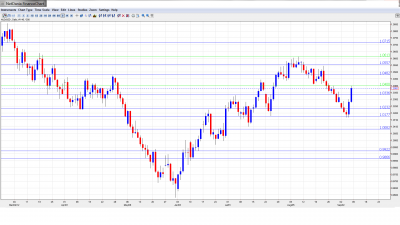 Chinese CPI: Sunday, 1:30. The key inflation index rose 2.0%, matching the market forecast. This indicates continued strong consumer spending and confidence.

Home Loans: Monday, 1:30. Home Loans rose 1.3% last month, its   best showing since February. However, the estimate for the September reading is a  negligible 0.1% gain.

Chinese Trade Balance: Tentative. The market is expecting a  sharp decline in the Trade Balance  surplus this month. This could affect the movement of AUD/USD, since China is  Australia's number one trading partner.

NAB Business Confidence:Tuesday, 1:30. Business Confidence shot up to 4 points in August, a very strong reading. The markets will be hoping for more of the same this month.

Westpac Consumer Sentiment: Wednesday, 00:30. This  consumer indicator disappointed  last month  declining by 2.5%, its worst reading in 2012. Will the indicator bounce back into positive territory in September?

Housing Starts: Wednesday, 1:30. This volatile indicator sparkled in August, with a strong gain of 12.6%. The markets are calling for a much smaller increase this month of 3.3%.

MI Inflation Expectations:  Thursday, 1:00. Inflation expectations fell in August to 2.4%. This was a sharp drop from the 3.3% figure the month before. Will the indicator  continue the downward trend in  September?

RBA Bulletin: Thursday, 1:30. This quarterly report tends to have a mild impact on the markets, but analysts will be looking for clues as to the central bank's future economic and monetary policies. A report which is more hawkish than expected is bullish for the aussie.
* All times are GMT
AUD/USD Technical Analysis
AUD/USD opened at 1.0271, and dropped as low as 1.067. The pair then rebounded, climbing as high as 1.0400, as the resistance line of 1.0402 (discussed last week) held  firm.  The pair closed the week at 1.0381.
We  start with resistance at 1.0874. This line has held firm since August 2011. This is followed by resistance at 1.0718, which last saw action in March. Below, there is resistance at 1.0605, just above the round figure of 1.06. This is followed by resistance at 1.0557, which saw action in August. Next, there  is resistance at 1.0482.  Below is  1.0402, which held firm as the  pair pushed upwards late in the week.  was briefly breached early in the week, but continues to provide resistance to the pair.
AUD/USD is receiving weak support at 1.0340. This line has been switching of late between support and resistance roles. Look for this line to be further tested if the aussie rally stalls. Next is support at 1.0230. This line has strengthened as the pair trades at higher levels. Below, there is support  at 1.0174, which has held firm since late July.
This is followed by support at 1.0080, protecting the psychologically important parity level. The parity line, last tested in June, is the next level of support. Below is the line of 0.9917. The final line for now is 0.9860, which has provided support since mid-June.
I am  neutral on AUD/USD.
Although the  pair  pushed higher this week,  this was due to  action by the ECB and weak US numbers. Does the Australian dollar have the legs to continue to rally? If the US economy continues to under-perform, the aussie could suffer as investors seek the safety of the greenback. As well, weak global demand has taken its toll on the Australian economy. At the same time, QE has increased in likelihood, and intervention by the Fed would benefit the aussie at the expense of its US counterpart. Traders  can likely count on more volatility from the Australian dollar.
The Aussie sometimes moves in tandem with gold. You can trade binary options on gold using this technical analysis.
Further reading: