AUD/USD was marked by choppy trading,  and the aussie  had limited losses  against the US dollar this week,  as the pair closed around the 1.0450 level. The upcoming week is very quiet, with just three releases. Here is an outlook of the Australian events, and an updated technical analysis for AUD/USD.
A weak Chinese Manufacturing PMI underscored a slowdown in the Chinese economy. As China's number one trading partner, these weak numbers are bearish for the aussie.
Updates: The RBA released its semi-annual Financial Stability Review, and the report was generally positive. Australian households and businesses are in good shape, and debt repayment does not appear to pose a problem. The report further states that the banking sector remains strong, and forecasts that modest employment growth will continue. RBA Assistant Governor Guy Debelle delivered remarks at a university event in Melbourne. AUD/USD is marked by choppy trading, as the pair was trading at 1.0417. Private Sector Credit will be released on Friday, and the markets are not expecting much change. The aussie continues to push higher, and has crossed the 1.04 line. AUD/USD was trading at 1.0420.
AUD/USD graph with support and resistance lines on it. Click to enlarge: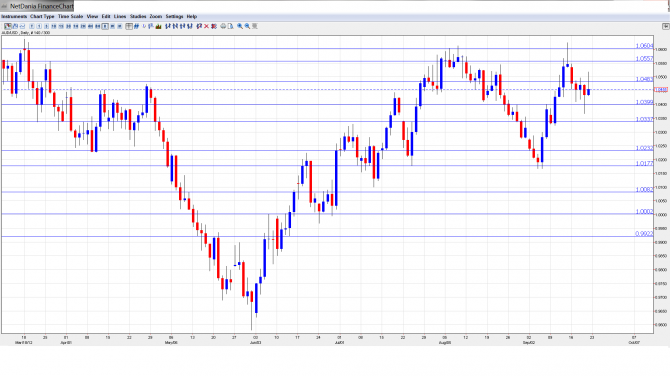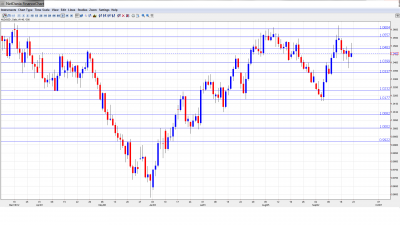 RBA Financial Stability Review: Tuesday, 1:30. This RBA report is published twice each year. It examines the conditions and risks of the financial system and may contain clues as to future monetary policy. A report which is more hawkish than expected is bullish for the aussie.

RBA Assistant Governor Guy Debelle Speaks: Tuesday, 8:30. The Assistant Governor will be delivering remarks at a university event in Melbourne. Analysts will be looking for hints as to the central bank's future monetary policy.

Private Sector Credit: Friday, 1:30. This indicator posted a modest increase of 0.2% last month, and the markets are predicting a slight rise to 0.3% in the September release.
* All times are GMT
AUD/USD Technical Analysis
AUD/USD opened at 1.0535, which was the high of week,as the resistance line of   1.0557 (discussed last week) held firm.  The pair  then dropped to a low of  as 1.0367, before rebounding to close  at 1.0455.
We  begin with resistance  at 1.1080. This is followed by 1.0977, which is protecting the important 1.10 line. Next is resistance at 1.0874.  This line has held firm since August 2011.  Below, there is resistance at 1.0718, which last saw action in March.
We next encounter resistance at 1.0605, just above the round figure of 1.06. This line  has strengthened as the pair trades at lower levels.  This is followed by resistance at 1.0557, which has held firm  since the strong rally by the aussie a couple of weeks ago.  Next, 1.0482 is now providing weak resistance, after it was breached this week as the pair moved downwards. Look for this line to be tested if the pair shows any upwards movement.
AUD/USD is receiving support   at 1.0402, protecting the 1.04 level. Next, there is support at 1.0340.   The next line of support is at 1.0230. This line was last breached in early September, when the  Australian dollar began an impressive rally. Below, there is support at 1.0174, which has held firm since late July.
This is followed by support at 1.0080, protecting the psychologically important parity level. The parity line, last tested in June, is the next level of support. The final support level for now is at 0.9917.
I am  bearish on AUD/USD.
After rallying following the QE3 decision, the pair had a quiet week. However,  the aussie could lose ground due to slower growth in China. As well,  if the US economy continues to under-perform, investors  may abandon risky currencies such as the Australian dollar, in favor  of the safety of the greenback.
The Aussie sometimes moves in tandem with gold. You can trade binary options on gold using this technical analysis.
Further reading: