The Aussie continued it's unstoppable rally into unchartered territory. Is AUD/USD overbought? The upcoming week has quite a few indicators to rock the Aussie. Here's an outlook for the Australian events, and an updated technical analysis for AUD/USD.
Australian employment figures confirmed the great economic situation in Australia – the unemployment rate is at 4.9%, although the housing sector is still struggling, as seen in the drop in home loans. But all in all, the gains are huge. Will this continue? Let's start:
AUD/USD daily chart with support and resistance lines on it. Click to enlarge: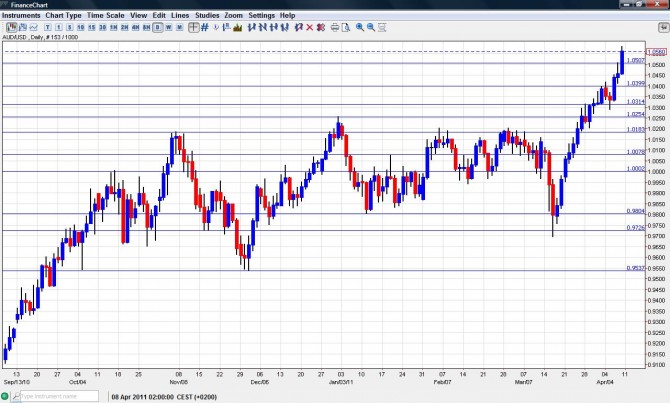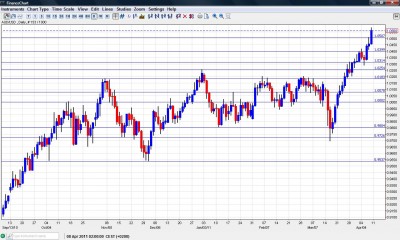 NAB Business Confidence: Tuesday, 1:30. National Australia Bank has shown a big improvement in its survey of 350 businesses. The score jumped from 4 to 14, after being negative just two months ago. Another small rise is expected now.
Westpac Consumer Sentiment: Wednesday, 00:30. Another Australian bank, Westpac, looks to consumers. Their survey of 1200 consumers has been quite unstable in recent months, flipping from gains to drops. After a rise of 1.9% two months ago, a drop of 2.4% was reported last month. A small gain is expected now.
Glenn Stevens talks: Wednesday, 5:00. The governor of the RBA decided not to raise the rates just now. How will he act in the future? Speaking in New York, Stevens might shed some light on future policy. Some think he'll cut the rates, while others see more hikes. His speeches always rock the Aussie.
MI Inflation Expectations: Thursday, 1:00. Interest rates are mostly driven by inflation. As the Australian government releases inflation figures only once per quarter, this unofficial indicator by the Melbourne Institute gives a quick insight. According to MI, inflation expectations have eased after two strong months, but are still elevated, at 3.6%. A small gain is likely now.
New Motor Vehicle Sales: Thursday, 1:30. Sales of cars, trucks and other vehicles serve as a gauge of economic activity and consumer confidence. A small rise of 0.2% was seen last month, after a fall of 2.4% beforehand. Another small gain will probably be reported now.
Chinese GDP: Friday, 2:00. Australia's main trade partner releases a big bunch of economic figures. The most important one is GDP. Despite the central government's efforts to cool the economy and move to "prudent" policy, growth is expected to remain super strong at 9.5% (annualized) in comparison with 9.8% in the previous quarter. This will help the Aussie. CPI is expected to tick down from 5.2% to 4.9%, but its importance for the Aussie is lower – the market isn't too excited from Chinese rate hikes.
* All times are GMT.
AUD/USD Technical Analysis
The Australian dollar fell at first to the area of the 1.0315 line (mentioned last week), before recovering and starting a big rally. Some resistance was found at 1.05, but this was eventually broken as well, with the pair closing at 1.0560.
Looking down, the previous resistance lines at unchartered territory turned into support at territory just conquered. First support appears at 1.05 – the Aussie struggled with this line before the final push.
Below, 1.04 serves as support after serving as such in the middle of the week, right after having worked as resistance. 1.0315 temporarily capped the pair after it conquered the previous historic high, and now worked as support – it's a stronger support line.
Lower, 1.0254 was the 2010 high and another strong line of support.  It's followed by 1.0180, which was the previous high in November, and worked since then as a tough resistance line.
Below, 1.0080 was often the cushion when the Aussie was trading at these highs and also worked as support. It's followed by the obvious line of parity, which is weaker than earlier, but is still of importance.
Under parity, we find  0.9940, which provided support upon dips under parity. Further minor support is at 0.9866, which had a role in recent months.
Further below lower we find 0.98, previously the lowest level in 2011, but this was temporarily breached now just two weeks. It's followed by 0.9724, which provided support back in November, and proved its strength now as well. There are further lines lower, but they're too far now.
I am neutral on AUD/USD.
On one hand, we have a great jobs report, a booming economy and rising commodity prices. But these translated into extreme gains that send the Aussie into overbought ground. I believe it's likely to consolidate before moving higher, especially after the latest trigger for dollar weakness, the government shutdown, was averted.
Further reading: