The release of employment data is the main event for the rising Aussie. Here's an outlook for the Australian events, and an updated technical analysis for AUD/USD.
AUD/USD chart with support and resistance lines marked. Click to enlarge: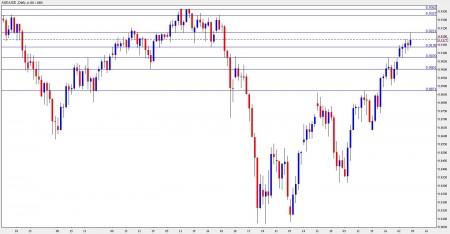 Glenn Stevens left the interest rate unchanged at 4.50%, exactly as expected. The Aussie enjoyed other figures and US weakness to rise. Will this continue? It now depends on jobs. Let's start:
ANZ Job Advertisements: Published on Monday at 1:30 GMT. Delayed from last week. This unofficial employment gauge serves as warm up for the official job figures due 9 days later. The amount of jobs advertised in the media made a nice rise of 2.7%, going hand in hand with the  improvement seen in the official figures. Another rise is expected this time.
Home Loans: Published on Monday at 1:30 GMT. After a few months of drops in loans – the outcome of the rate hikes, Australians took more mortgages last month. After rising by 1.9% last months, loans are expected to drop by 2.1% this time. Note that the ANZ job advertisements slightly overshadows this release.
NAB Business Confidence: Published on Tuesday at 1:30 GMT. National Bank Australia surveys 350 businesses for this important gauge. After peaking at 19 points, this indicator dropped gradually to 4 points last month, still positive – meaning economic improvement. It's expected to rise now.
Westpac Consumer Sentiment: Published on Wednesday at 00:30 GMT. This bank surveys consumers – 1200 of them. After three months of drops, consumers' mood became optimistic once again, with confidence leaping by 11.1% last month. A much smaller rise will probably be seen now.
MI Inflation Expectations: Published on Thursday at 1:00 GMT. Melbourne Institute fills in for the government, that published inflation data only once a quarter. Inflation expectations dropped to 3.3% last month – a drop that goes hand in hand with the low CPI. This time, inflation isn't expected to continue dropping. A rise above 4% will boost the Aussie.
Employment data: Published on Thursday at 1:30 GMT. Australia enjoyed  4 excellent months of growth in jobs (employment change), exceeding expectations each time. This was accompanied by a drop in the unemployment rate, to 5.1%. This has been one of the main drivers of the currency. Good figures are expected again – another gain of 20,100 jobs and an unchanged unemployment rate, remaining low. These should boost the Aussie.
AUD/USD Technical Analysis
The Aussie began the week with a storm, jumping above the 0.9070 it struggled with in the previous week. It then traded in a tight range between 0.9070 to 0.9135, and it eventually broke this strong barrier as well. After touching the next resistance line of 0.9220 it closed lower, at 0.9177.
Some lines were modified since last week's outlook. The Aussie is range bound between 0.9220, which was a support line in April, and 0.9135 which was a support line in May.
Looking down, 0.9070 now turns into a support line, after capping the pair recently. Below, the round number of 0.90 is the next support line – it was also a swing low in March.
Lower, 0.8870 was a stubborn resistance line in June and in July and now works as strong support. There are many more lines below, but they're too far at the moment.
Above 0.9220, the next line one of the most persistent lines – 0.9327, which first capped the pair in October 2009, and continued being tested many times afterwards.
Higher, 0.9360 was a peak in April and works as a minor resistance line. The 2009 high of 0.94 is the next line of resistance, and it's followed by 0.95 which was an important line in 2008.
I remain bullish on the Aussie.
Australia continues to enjoy a surplus in its trade balance, a high interest rate, and it should receive a boost from job data, which tends to exceed expectations.
Further reading:
Want to see what other traders are doing in real accounts? Check out Currensee. It's free..