The  Aussie  suffered from another week of losses, gradually erasing previous gains. Meeting minutes from the recent decision to cut the rates is the main event of the week. Here is an outlook for the upcoming events, and an updated technical analysis for AUD/USD.
Employment figures came out within expectations, with a gain of 10K jobs and a small drop in the unemployment rate. Other indicators were also OK, but not good enough to boost the Aussie.
Updates: AUD/USD is on the fall once again, after a strong start. The bad auction in Italy outweighs strong Japanese GDP at the wake of the new week. The Aussie is at lower ground, under 1.02. European yields are higher and this triggers the "risk off"  environment  which plays against the Australian dollar. AUD/USD parity is clearly in sight after the US dollar strengthened across the board. The Australian dollar continues struggling as Europe struggles and awaits the ECB. And now, AUD/USD lost parity as the European debt crisis was felt strongly in Spain. The Aussie managed to get back above parity as the European situation temporarily stabilized: the talk about circular QE (ECB -> IMF ->  sovereign  bonds) is on the cards again.
AUD/USD chart with support and resistance lines on it. Click to enlarge: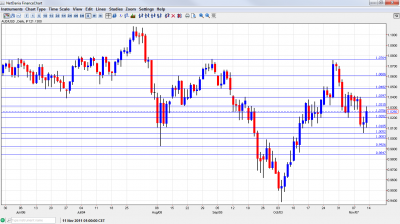 Monetary Policy Meeting Minutes: Tuesday, 00:30. In their last meeting, the members of the RBA decided to cut the benchmark interest rate from 4.75% to 4.50%. This decision came on the background of a global slowdown. We will now get to see more about what policymakers think and perhaps we will receive hints towards the next policy meeting.
New Motor Vehicle Sales: Tuesday, 00:30. After three consecutive months of rises, the number of new cars and trucks sold in Australia dropped by 1.5%. This gauge of the economy will likely drop once again.
MI Leading Index: Tuesday, 23:30. The Melbourne Institute combines 9 economic indicators for its composite indicator. The last figure, for August, showed a rise of 0.8%. September will likely be much worse.
Wage Price Index: Wednesday, 00:30.  This indicator combines inflation and employment. The quarterly scope also makes it important. The pace of wage price rises ticked down and reached 0.9% in Q2 2011, still a strong pace. A much slower rise is likely now, adding pressures for another rate cut.
Glenn Stevens talks: Wednesday, 9:30. The governor of the RBA will appear in Sydney and might discuss monetary policy. Is another rate cut coming? Stevens usually provides some hints.
* All times are GMT.
AUD/USD Technical Analysis
Aussie/dollar started the week trading at a high range. The 1.04 line (mentioned last week) capped the pair. It then fell sharply and found a bottom only at 1.0050, before recovering and closing at 1.0260.
Technical levels from top to bottom:
1.0764 was a swing high in August and also during May, and was approached in October. It now looks like a spike in the graph and is our high point.  The round number of 1.06 worked in both directions in recent months.
1.0480 was weak support in August and is now weaker after pierced on the way down, although it should be watched on a recovery attempt.  The round number of 1.04 was a swing low in June and also the peak of a failed recovery attempt in September. It was also a cap in October, and its position is stronger once again.
1.0314 was a stepping stone on the way up many months ago and also a line of support in August. In November is provided some support and some resistance more lately.  The 2010 peak of 1.0254 is now weaker than earlier, and is pivotal now.
It is closely followed by 1.02, which cushioned a fall during November and then switched positions to resistance.  1.01 was the area of a cushion around July and also provided support after the recent surge in October, for two weeks in a row.
Before parity, 1.0050, which was a swing low, joins the graph. The next line is obvious: AUD/USD parity. The very round number has strengthened in September after capping a recovery attempt. It also proved its importance in October.
Below parity, 0.9930 is weak resistance after holding back in August. The last line for now is 0.9850, which worked in both directions recently.
I remain bearish on AUD/USD.
The crisis in Europe, currently in Italy, but threatening France as well, continues weighing on the Aussie. Signs from China are still mixed, but there are reasons to worry. For example, trade balance came out lower than expected. Regarding Australia, we will now get important hints towards the next rate decision.
If you are interested in an alternative way of trading currencies, check out the  weekly binary options setups, including AUD/USD, EUR/USD, GBP/JPY and more.
Further reading: